News
Promoting Film Production Service in Barcelona at Focus London
27/11/17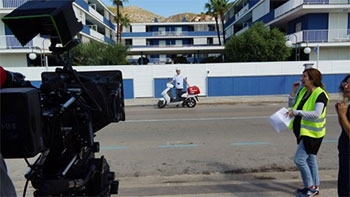 December sees the biggest European get together for international production kick-off with Focus London's annual free-to-attend meeting place. Organised by The Location Guide, sessions include expert speakers from film, TV, advertising and interactive entertainment, with talks on subjects as diverse as film locations, branded video or co-production financing.  Exhibitors from over 50 countries and networking events complete the programme.
Polar Star Films will be represented by the Barcelona Film Commission and features in their new guide to shooting and post-producing in Catalonia.  Come to stand S84 to find out more about the locations and film production services we offer in Barcelona, the Costa Brava and the rest of Spain.  And, of course, to pick a copy of the guide! 
Stand S84
Barcelona Film Commission
Focus London – 5-6 December 2017
The Business Design Centre, Islington, London
Parrot at the Milkbar on Canal 33 on November 9th
26/10/17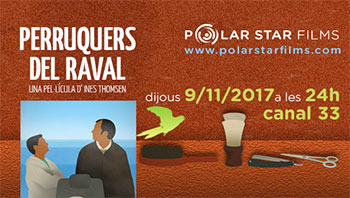 Parrot at the Milkbar returns to our screens on November 9th at 24:00h in the programme El Documental on Canal 33. The documentary, directed by Ines Thomsen, was awarded Best Film at the Filmfest Schleswig-Holstein and Best Documentary at the Achtung Berlin-New Berlin Film. It has been screened at numerous festivals such as DocsBarcelona, Documenta Madrid, Hofer Filmtage, Alcances and Valencia International Human Rights Festival.

The film tells the story of four hairdressers and their customers in El Raval, four small, strange time and space capsules, of people who left their home to find a better one, while the Spaniards are about to leave their own country themselves.

In the small alleys the little barbershops lie side by side. Each nationality has its own. The businesses cater for parallel societies and have little contact with one another. Whoever enters apparently leaves Spain behind to plunge into a safe place of familiar rituals and memories of home. The barbers live from their regular customers and their almost pastoral ability to constantly talk about everything and nothing, or remain silent, whilst they softly touch and courageously beautify the heads and cheeks of the weary and burdened. Let yourself be amazed by this little capsule of time that has not aged.

New prime-time documentary postgrad at the University of Barcelona
13/09/17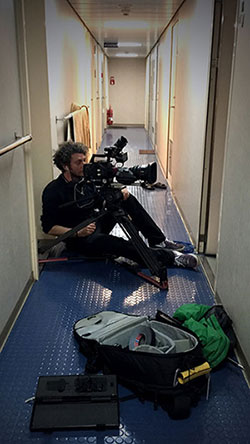 The UB launches a postgraduate in Documentary and Current Affairs that focusses on the production of documentaries and news content for prime-time distribution. There are still places available on this course that covers techniques in financing and development of documentary as well as analysing different models of documentary production.
The term documentary covers many audio-visual projects that document or tell stories about reality, however these can be wildly different in the way in which they are made, the type of public they target, the objectives they seek to achieve, the philosophy behind them and even by the codes of ethics that govern them.
This postgraduate course aims to focus on a type of documentary that is not usually the most studied but which, paradoxically, captures the maximum interest of the public: documentaries and current affairs.  This subgenre competes successfully with prime-time television, as both our productions Google and the World Brain and Falciani's Tax Bomb are testament. It is also the most produced subgenre in Catalonia, both by independent producers and in-house by the public broadcasters, and which moves budgets of hundreds of thousands of euros throughout Europe. The course's faculty members include Polar Star Films executive producer Carles Brugueras.
Registration closes on September 25th. All the information you need to know you will find in this link:
http://www.ub.edu/biblio/cursos-de-formacio-continuada/documentals-i-reportatges-informatius.html
Upcoming screenings of FREIGHTENED – The Real Price of Shipping
30/08/17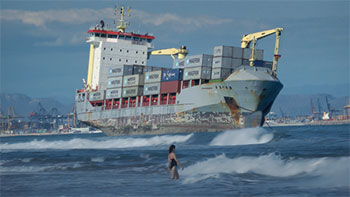 New screenings announced in Finland, Germany, UK and Czech Republic for FREIGHTENED – The Real Price of Shipping (see below for details).
This prize-winning documentary has been shown at more than 30 festivals worldwide since it's premiere in San Francisco in April 2016, winning Audience Silver Tree Award at South African Eco Film Festival, Tournesol du Documentaire Vert Award at Festival du Film Vert, Best Film at Another Way Film Festival, Grand Prix Écrans Publics and the Gold Green Deauville Award.

FREIGHTENED – The Real Price of Shipping, a feature-length documentary by Denis Delestrac, is an audacious investigation into the all-but-visible industry of freight shipping that holds the key to our economy, the environment and the very model of our civilisation. For more information please visit the FREIGHTENED website.
Screenings:
YLE, Finland
31st August, 9th September 2017
More info
Cinemare Ocean Film Fest, Germany
2nd September 2017
More info
Hyde Park Picture House, UK
5th September 2017
More info
Water, Sea and Oceans, Czech Republic
15th & 16th September 2017
More info
Crowdfunding launched for new documentary The Secret behind Dr. Grinberg
25/07/17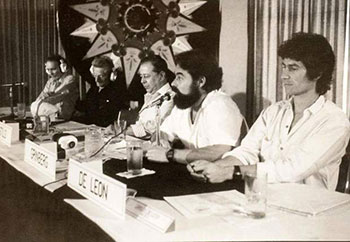 Discover The Secret behind Dr. Grinberg, our new documentary about Dr. Jacobo Grinberg, a Mexican neurophysiologist who pushed the boundaries of science with his investigations into human consciousness to the point of unlocking the door to telepathy.
Building on seven years of travel and research, we now wish to complete the film's funding to be able to reveal the full story behind the mystery. And to do so we need your help!  We're asking our supporters and colleagues to get involved in the project and collaborate in the film's Indiegogo crowdfunding
In 1994, at the climax of his scientific career, Dr. Grinberg mysteriously disappeared. The police found no trace of him. The only thing that is clear is that all his research material, including his computers, disappeared along with him. Grinberg had become a valuable asset in many contexts, purportedly holding the scientific key to telepathy and supernatural cures. Some claim that the American government captured Jacobo and put him to work for them. Some say that his second wife was involved in his disappearance, alleging she is not the person she claims to be.
This documentary coproduction between Polar Star Films and Primo Producciones, recounts the impossible story of the search for Dr. Grinberg in a metaphysical thriller of fate and destiny.
Discover the whole story behind the production at Indiegogo: https://www.indiegogo.com/projects/the-secret-behind-doctor-grinberg-mexico#/
Best film locations from summer movies
20/06/17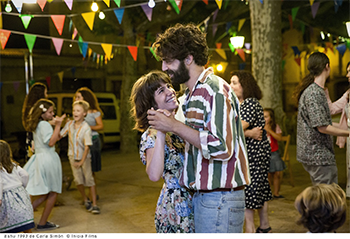 The heat is on! Summer is really making it's presence felt in the Northern Hemisphere and this week sees us officially welcoming in the new season with the passing of the equinox, and the shortest night of the year. Nothing better than preparing a cold drink, sitting in front of the fan with the blinds down and watching a summer movie. Here's our pick of the best film locations in summer movies to inspire you to dig out some classics or discover them for the first time.
- Las Ramblas, Gaudi landmarks and a dozen other locations in Vicky Cristina Barcelona
- Catalan country retreats in La Garrotxa to transport you back to your childhood in Berlinale winner Estiu 1993
- Martha's Vineyard forms the perfect holiday town backdrop in Jaws
- Los Monegros desert and the iconic, black bull sign in Jamon, Jamon, one ofPenelope Cruz Javier Bardem's first films together.
- Julia Roberts' Bali in Eat, Pray, Love
- Greenwich Village in Rear Window, not actually a location as it was a set built especially with a sophisticated lighting system and special drainage to accommodate the night and rain scenes.
- La Seine and Paris at night in Before Sunrise
- Cypress Gardens, South Carolina, for the lake scenes in Cassevetes' The Notebook.  The trained birds were brought in especially.
- Kennywood amusement park, where Jesse Eisenberg steals the show in American teen pic Adventureland.
- 1950's Costa Brava with Dirk Bogarde in The Spanish Gardener
International co-production from an expert: an interview with Christian Popp
29/05/17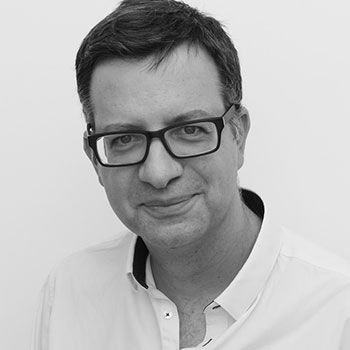 Polar Star Films is currently working with producer Christian Popp, Yuzu Productions on our latest documentary project. Christian began his career as a commissioning editor at ARTE in 1997 before becoming an independent producer in 2005. He has produced many award-winning documentaries, among them this year's Cannes selected BECOMING CARY GRANT. During a production meeting in Barcelona, we took the opportunity to ask him a few questions.
Núria Palenzuela: What brought you to the world of documentaries?
Christian Popp: I started as a journalist, first for newspapers, and then for ARTE. And at some point I wanted to do something longer, more in depth. One day I knocked at the door of the theme evening department at ARTE. They needed someone at that moment. Lucky for me. So it was a natural process, it wasn't a planned thing. And it wasn't a kind of a revelation like: wow, I see a documentary and I want to become a documentary producer. I also directed documentaries at some point. It's just that one day I decided not to direct any more but to produce only.
NP: How does being a producer differ from being a commissioning editor?
CP: Well, my first reason to become a producer was kind of a frustration of not being really hands on and not being close to the project itself, to the development of the project and ultimately to reality. As a commissioning editor, you read the project, you discuss with the producer and the director, then it goes through a decision making process and if successful it is ultimately made. You see it when it's more or less done, which is beautiful, but for me, personally, it was a frustration not to be there at all stages. And the decision to become a producer was based on that, on the feeling that I needed to be closer to the reality of production.
NP: You have worked as a producer both in Germany and France. Is film production different in different countries?
CP: Depending where you're based, you produce in a certain way. And this has to do with firstly how documentaries are perceived and approached artistically in a country. Films made in Germany are different than films made in France, because there's a different taste, a different history, aesthetic history as well, I'm not judging, I'm just saying that this is different, so you need to acknowledge these differences first. Then, producing in Germany is a bit harder, TV channels are investing less than French TV channels. But it is very good as well because in France you need to develop for a long time, and write a lot before you even approach your funders. While in Germany you can go to TV channels and say "okay, what do you think about this idea". So, it's difficult to say I prefer producing in France, but I think I do. For the aesthetic reasons I was mentioning, but also for these financial reasons, not only because there is potentially more money, but also because this process is more interesting. You know… to go deeper into a project, to develop it, to be very careful with the development before you say: Yes, I want to take it, to finance it, to produce it.
NP: What have you learned from international co-production over the years? What tips can you share?
CP: I think you shouldn't do an international co-production if you don't need it. And with need, I don't mean only and not even primarily money. Because the idea of international co-production is to aggregate funds from different countries so that you can raise the budget of your ambition. But on the other hand it's also about collaboration. It's very much about local knowledge, local taste, local talent that you want to bring together to make the best film possible. So I set up co-productions, or I agree to enter a co-production if it makes sense. Yes, we can bet on a fund, but we also need a creative collaboration.
NP: What do you think about transmedia? Is this the future for documentary?
CP: If you look at film history, it's a very young way of telling stories. And this is evolving because the technology and the opportunities to tell stories are evolving. So transmedia is for me just a tool to tell basically the same stories, but differently than how we did it before. And, while a few years ago, web based interactive documentaries were the new "El Dorado" in a way, not financially but in terms of attention, this has changed, now it's VR, Virtual Reality. People are exploring how to tell stories in VR, there are beautiful projects, there are really amazing things that have been done, however I think that Augmented Reality has a more interesting future than Virtual Reality. And I agree that while right now linear documentaries for TV and theatrical release are still very important and still very big, in addition to that, there will be shorter forms. You can tell stories on Facebook, on Snapchat. You can tell stories on VR or Augmented Reality, location based, so all this will grow. And I am happy about that.
NP: This is your second collaboration with Cosima Dannoritzer. What attracts you to her projects?
CP: What I like about Cosima's approach is that she takes on films that, without having this huge ambition, can change something in the world and I think this is very important. The Light Bulb Conspiracy, The E-Waste Tragedy, now Time Thieves, are films which are relevant. They have an impact. I wish them to have an impact to the world. The second thing I like about Cosima's approach is her precision in a way in approaching things. She's a very creative director, but she's also a journalist, in the sense that she is very precise in how she approaches things. So artistically on one hand, but then as a journalist, carefully crafted, and carefully told, to make films that have the impact I was talking about.
NP: How do you control time in your life? What kind of timepieces do you use?
CP: I use a watch but I don't have it with me all the time. I try not to be too much bound to time. I try to organize my day in order not to be overwhelmed by 'time thieves' from outside. I manage quite well the 'time thieves' which are mine, and I try to keep in balance and to be careful with 'time thieves' from outside. But the reality is that production, documentary production, is a 'time thief' in a way. I don't know why we went to the U.S. or Barcelona, or Berlin or elsewhere to film, we could have filmed in our office (laughs). So, we learned a lot about our daily work too by producing this film, how to be more efficient. But I like to drift as well, I like not to do anything at some point, and not to have the feeling that if I'm not doing anything I'm losing time. So, I have a very ambivalent relationship with time, we all do.  
NP: Do you think time is money?
CP: Of course time is money, but I think it shouldn't be, and we should fight that it is only money. There are different sorts of time. There's a time, which might be valued in money, but there's a time, time for relationships, time for love, time for pleasure in a way, which shouldn't be valued in money, which shouldn't be valued at all, just enjoyed.
Documentary department update
09/05/17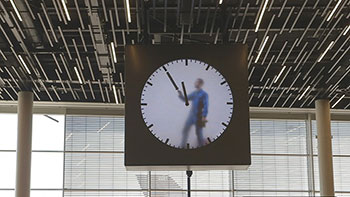 Upcoming screenings:
DocsValencia, Spain, will be screening FREIGHTENED – The Real Price of Shipping, this month.  Screenings on Monday 15th May 19h and Wednesday 17th May18h. Visit the festival site for more details: http://docsvalencia.com
The Taipei Literature Festival, Taiwan, will screen Google and the World Brain also this month: 26th May 2017, 4th June 2017 and 7th June 2017. Visit the festival site for more details: http://literature.festival.taipei/2017/film.html
In production:
Director Cosima Dannoritzer and editor Georgia Wyss have begun post-production on our latest documentary about the world's most precious commodity: time. We'll be 18 weeks in the edit room and then final picture and audio post-production for our latest Spain-France coproduction with Yuzu Productions for Arte, RTVE ,TV3, Servus TV, and in collaboration with SRF, RTS, YLE, Yes TV.
In development:
Phew…. we did it: two national funding requests have been submitted, 2 international research trips have been made and 1 round of festival meetings to date so far this 2017. It's looking good!
A sneak preview on the eve of DocumentaMadrid and DocsBarcelona 2017
02/05/17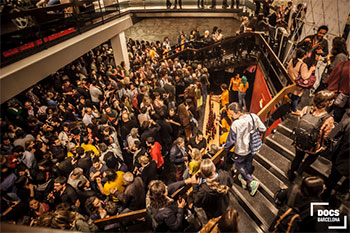 May kicks off with two important documentary festivals in Spain: DocumentaMadrid (4th-14th) and DocsBarcelona (18th-28th).  We'll be treated to a whole host of stories told from different points of view thanks to the determination of fellow documentary makers.
DocumentaMadrid is celebrating it's 14th edition this year, and has its bets firmly placed on cinéma d'auteur.  A new section, "Fugas", has been created for innovative and radical film, opening its doors to filmmakers and cinematographers who are not afraid of pushing the boundaries of traditional cinema aesthetics, creating new audiences and, at the same time, maintaining and widening it's contact with an ever-more demanding and critical audience.  Parallel activities include meet the directors, a Robert Flaherty seminar and an introduction to Webdoc production.
DocsBarcelona has doubled in duration for this year's 20th edition, with films focussing on conflict in Colombia, Siria and Somalia, and textile factories in India amongst others.  Not to be missed are the opening and closing films: "La Chana" by Lucija Stovejic (Audience Prize, IDFA 2016) and "Amazona" by Clare Weiskopf.  Both films are directed by women forming part of the 50% of films that are directed or co-directed by women in this year's festival.  DocsBarcelona market reports to be the third biggest financing market for documentary projects, and so has also strengthened its industry activities.
Consult the full DocsBarcelona programme here:
http://www.docsbarcelona.com/en/docsbarcelona-2017/festival/programacio-2017/
And the full DocumentaMadrid programme here: http://www.documentamadrid.com/en/programa/tipo/fecha
Polar Star Films: celebrating 20 years of production!
25/04/17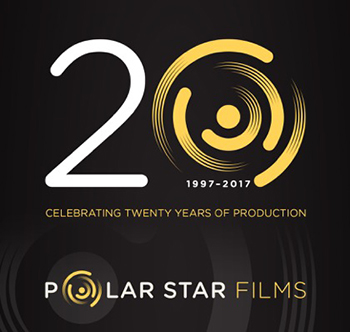 Yes, we're celebrating exactly 20 years of great content production! We've made adverts, short films, documentaries, and lately more and more digital content. Polar Star Films began life on the 20th of February 1997, and opened its first office in April of the same year. And since then has grown surely and steadily.
In 1998 we produced our first TV commercial for Panama Jack and first pop promo "El Far del Sud" for Sopa de Cabra and since then the production company has been in constant evolution. 2004 marked the beginning of Polar Star Films' independent production with our first short film "The Bathers" and first documentary "The Devil's Miner" which went on to win more than 8 international awards. More recent documentaries include "Google and the World Brain" in 2013 and "Freightened – The Real Price of Shipping" in 2016, both gaining international aclaim.
In total we've 11 documentaries, 2 interactive documentaries, 5 fiction shorts and 9 webs under our belt, and we are about to release our first fiction feature film. On the commercial front we've not been resting on our laurels either, with several advertising campaigns for some of Europe's best known market brands such as Media Markt, El Almendro, GAES, Brico Depôt, Wuaki, Just Eat, Wuaki and Job Today.
We've built a unique and solid team led by Carles Brugueras, that takes on production challenges with zeal and optimism, whilst never losing our trademark honesty and quest for excellence.
Many of you form a part of the Polar Star Films family in one way or another, and we want to celebrate with you this 2017 with special publications and various prize draws via our networks. We'll be starting soon with a prize draw for a t-shirt specially commissioned for our 20-year anniversary.
Stay tuned!
Prix Tournesol awarded to FREIGHTENED for its originality and excellent production
28/03/17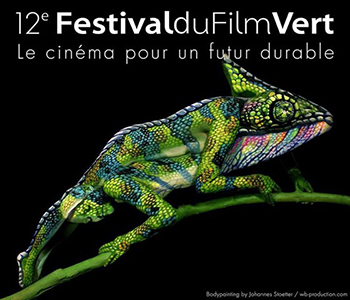 FREIGHTENED: The Real Price of Shipping has been awarded the Prix Tournesol at the Festival du Film Vert in Switzerland. The jury awarded the Tournesol prize "for its originality and excellent production." Mentioning how the film reveals an all-but-visible industry and raises awareness about the environmental and social impact, as well as the traceability of the things we buy and consume. According to the jury, "the public does not come out unscathed from this film."
Director Denis Delestrac dedicated the award to the team and the crew of the ships that travel the world every day. According to him, "thanks to festivals such as Festival du Film Vert it is possible to highlight issues like this."
FREIGHTENED competed for the prize along with other films selected by the festival committee such as Food Coop (Tom Boothe, 2016), Futur d'espoir (Guillaume Thébault, 2016), The True Cost (Andrew Morgan, 2015) and Vivre avec les loups (Guillaume Maidatchevsky, 2016).
If you want to get a copy on DVD of FREIGHTENED, you can buy it from our online shop!
Need the Job [done] Today? New commercials production for UK television
23/02/17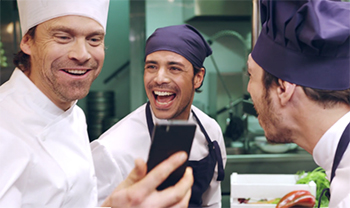 Loyal clients Job Today and creative agency Commo! entrusted the Polar Star Films team with the latest production of two adverts for the UK market. Offering both points of view of the Job Today App users, that of jobseeker and hirer, the two adverts were shot in Barcelona in film locations that doubled up as London. A great international cast imbued the story with tons of energy. A funky restaurant, terrace cafe and street scenes completed the fresh look of the production. The original adverts are running on Channel 4 and online in the UK, with Spanish versions on the screens in Barcelona and the rest of the country!
If you're looking for top quality production services in Barcelona, Spain or beyond don't hesitate to contact us!
Photographer Steve McCurry, the focus of a new documentary by Polar Star Films
20/02/17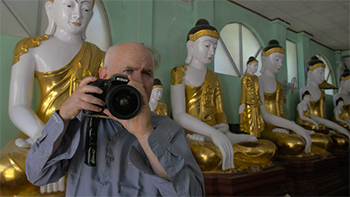 We're pleased to announce that we've an exciting new project in development about the life and work of photographer Steve McCurry. Renowned for the famous photograph of the Afghan Girl with green eyes for National Geographic, the photographer's work spans more than 3 decades and all the continents of the globe.  From war stricken Iraq to delirious colour festivals in India, Steve McCurry's work captures the raw beauty of the human condition in an awakening message of unity.  
The director of FREIGHTENED, The Real Price of Shipping, embarks on this new adventure seen through the lens of the iconic phototgrapher. The director was lucky enough to catch up with McCurry in Haiti and the Dominican Republic this month and catch the photographer at work first hand. The plan is to follow the legendary photographer around the planet revealing the most pivotal moments of McCurry's life and drawing connections to recent global history in what will surely be an extremely seductive, visual journey.
Steve McCurry has been one of the most iconic documentarians of contemporary photography for more than three decades. His striking images captured all over the world portray a spectrum of conflicts, vanishing cultures, ancient traditions and contemporary culture alike. Through his images, McCurry shows life in the present moment, revealing the human being in its essence, and, whether you live in Baghdad, Bombay or the Bronx, we are all animated by the same essential hopes and dreams.
The documentary One is a Polar Star Films production in co-production with Intrepido Films. We hope to have more news soon!
Facing the Wind feature film in final stages of post-production
09/02/17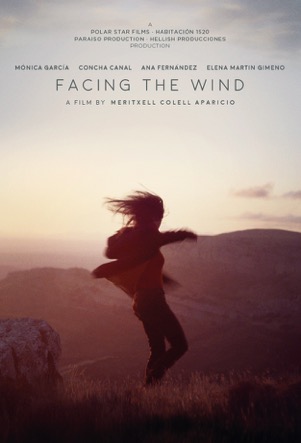 Polar Star Films' first fiction feature film is almost finished! Facing the Wind, directed by Meritxell Colell, is in the final stages of post-production. A Spain-Argentina-France co-production, supported by Eurimages and developed at Cinéfondation L'Atelier Cannes, the film marries dance, documentary and cine de auteur to create a singular tale of home ties and relationships.
Facing the Wind tells the story of Monica, a renowned choreographer, on her return to Spain after 20 years of absence to see her sick father. Upon arriving her father has already died and her mother asks her to stay to sell the family home. In delaying her return to Buenos Aires Monica rediscovers her childhood landscapes and is forced to confront the past.
Facing the Wind is a Polar Star Films, Habitación 1520 and Paraiso Production production, supported by Eurimages, ICAA, INCAA, Cinéfondation L'Atelier, REC and Sources 2.
The Polar Star Films team will be at the Berlinale this week presenting the film if you'd like to meet up and find out more!
Best Documentary Producer 2016 awarded by PROA to Polar Star Films
17/01/17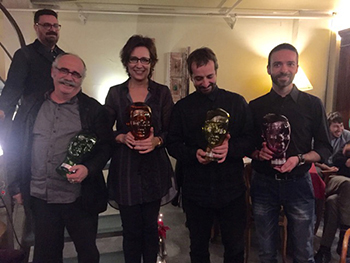 Polar Star Films has been awarded the Best Documentary Producer of the year for it's consistent and outstanding documentary production. PROA catalan producers federation awarded Executive Producer Carles Brugueras the prize for Best Documentary Producer 2016. Recent documentary titles produced by Polar Star Films include award-winning Falciani's Tax Bomb and FREIGHTENED, The Real Price of Shipping, both completed in 2016.
At the PROA annual awards ceremony Best Fiction Producer went to Míriam Porté for Distinto Films, Best Animation Producer to Ivan Agenjo for Edebé, and Best Television Producer to Guille Cascante for Goroka TV.
The Final Fair wins Best Medium-Length Documentary at Atlantidoc
10/01/17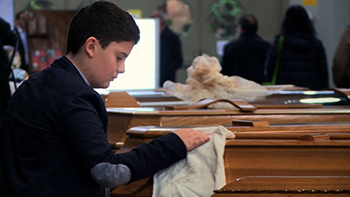 The 10th edition of Atlantidoc International Documentary Festival in Uruguay awards Best Medium-Length Documentary to Polar Star Films The Final Fair directed by Ricardo Iscar and Alessandra Paiva.
The Final Fair reflects on the business of death, awash with cleverness, black humour and seduction. Spanish and Portuguese companies from the funeral sector meet every year in Ourense to show off their latest products and services, mindful of the 7 billion future clients that will face this fateful moment sooner or later. There are diamond-studded and mink-lined coffins, hardwood urns, Swarovski crosses as gifts and luxury cars for a high-class public. No, in death we are not all equal, although obviously it comes to the rich as it does the poor in the end. In The Final Fair, morbid fascination, dread and curiosity are washed down with cava and Iberian ham.
Watch The Final Fair online at Filmin!
FREIGHTENED DVD out now!
29/11/16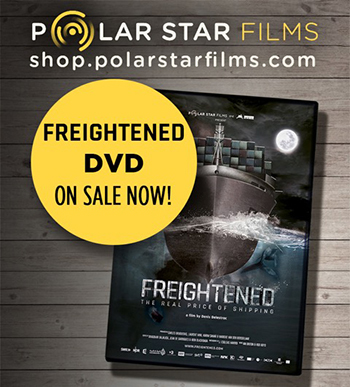 Polar Star Films is delighted to announce that the DVD of FREIGHTENED The Real Price of Shipping is available to buy from the Polar Star Films online shop. Just in time for Christmas! 
This prize-winning documentary has been shown at more than 20 festivals worldwide since it's premiere in San Francisco in April 2016, winning Best Film at Another Way Film Festival, Grand Prix Écrans Publics and the Gold Green Deauville Award.
This feature-length documentary by Denis Delestrac is an audacious investigation into the all-but-visible industry of freight shipping that holds the key to our economy, the environment and the very model of our civilisation.  For more information please visit the FREIGHTENED website.
Delivery times vary greatly in different countries and regions, we recommend you reserve your copy before 7th of December if you'd like to be sure of receiving your DVD before Christmas.
Beyond advertising: Media Markt production update
24/11/16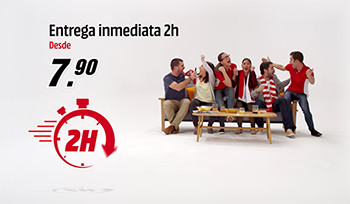 Autumn has been a busy time for Polar Star Films producing digital content and TV commercials for various Media Markt marketing campaigns.
We are proud to be involved once again in the new advertising campaign: "Soñar no, lo siguiente" (Beyond dreaming), a campaign that aims to turn the tables on its competitors with a claim and look that hits a sweet spot between ordinary Joe and techno trendsetter.
Polar Star Films' post-production team show's it's muscle with clean 3D transitions and time-ramped motion graphics that mirror the campaign's signature look of playing with time. The PSF production team covered the Chroma-key shoot to produce material for the TV commercials and digital applications such as web banners and online content, working in parallel with Cósmico who shot on location, and under DDB agency's creative eye.
In digital content Media Markt is also playing hard. Polar Star Films recently produced 30 short videos for the Service team that bring into line the in-store TV content with the brand's cleaner, whiter look. Each video spot advertises one of the many services on offer, from guarantees and installations, to different online payment and delivery options. With script and concept design by FARR and directed by Jordi Capdevilla, the videos were shot in two separate studio sessions with extensive 3D post-production to complete the fantasy meets reality landscape. As well as in-store TV in both Spain and Portugal the videos also feature in Media Markt newsletters, web and social networks.
And what now seems like way back in September we helped Media Markt go viral with the fifth edition of the Gran Sinpa competition (Do a runner). This year was a treat to have Victor Roca from MediaTrends on board to present the videos, giving a great performance as twin sport presenters Raul and Alberto. The FARR team and director Hector Prats gave the videos a totally new creative direction and look that was completed with great over-the-top motion graphics in these videos produced by Polar Star Films.
New international documentary co-pro begins production
15/11/16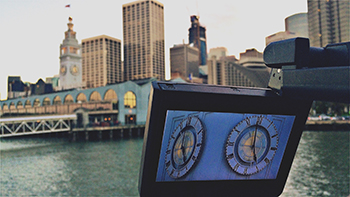 We're pleased to announce that Polar Star Films' has a new documentary in production. The international co-production directed by Cosima Dannoritzer (The Light Bulb Conspiracy & The E-Waste Tragedy) began filming last month in Europe under the working title of Time is Money. The team is currently shooting in the USA and will soon be heading to Japan.
Forget water, coal, petrol and rare earths - there is a new resource everyone wants: our time. This documentary investigates how time has come to equal money, why 'time poverty' is on the rise, and how the more we try to save time, the less we have. We will look at how businesses steal our time to exploit it for their profit and how the social networks have, in their own words, become 'the new clockmakers'.
A Polar Star Films production, coproduced by YUZU Productions, France, in coproduction with ARTE France, RTVE and TVC, in collaboration with SRF, RTS, Servus TV, YLE and YES TV, developed through MEDIA Slate funding and with the support of MEDIA TV Programming. 

Prizewinning documentaries and Media Slate confirmed!
04/07/16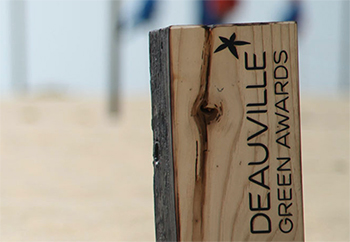 June has been a great month for Polar Star Films' documentary department, with two prizes awarded, nominations and a new round of Media Slate funding also confirmed.
Our latest documentary FREIGHTENED – The Real Price of Shipping, has won the Deauville Green Award for Transport and Eco-mobility at this landmark festival for Sustainable Development and Social Responsibility. A big congratulations to all the team! Upcoming screenings include Sense Ficció, TV3 on 5/7/16 and DREFF in September, and don't forget to log onto the film website to find out what you can do to become a more conscious consumer.
Our interactive scroll-doc Falciani's Swissleaks has won the Deutsch-Französische Journalistenpreis for Multimedia as well as being nominated for the Grimme Awards. Produced by Gebrueder Beetz Filmproduktion in co-production with Polar Star Films you can experience the interactive documentary on Arte, La Marea or TV3. Check out the full list of Deutsch-Französische Journalistenpreis winners here and the links to the list of nominations for interactive documentary here.
Media announced last week that Polar Star Films has been awarded a further 2 more years of Slate Funding which will certainly help to keep our creative juices following as we've several new documentaries in an exciting preparatory phase. Watch this space!!
FREIGHTENED - DIG Awards finalist and broadcast date forTV3
14/06/16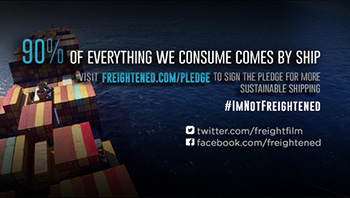 FREIGHTENED - The Real Price of Shipping is one of 3 finalists in the Investigative category at the DIG Awards. The documentary shares the spotlight with The Italian Handshake by Ali Fegan and Lars-Goran Svensson and Ukraine: Masks of Revolution by Paul Moreira. The DIG Festival begins on June 23rd in Riccione, Italy, so we'll know the winner soon!
After the success of FREIGHTENED at DocsBarcelona, ​​the film hits the small screen in Spain! The last documentary produced by Polar Star Films will be broadcast on Tuesday 5th July at 21:55h on TV3 within the slot Sense Ficció.
If you have not already done so, please visit the website of the documentary at http://freightened.com and sign the pledge for a more sustainable shipping in the section Get Active!
Use the hashtag #ImNotFreightened during the broadcast and follow us on our social networks!
Twitter: @freightfilm
Facebook: @freightened
The documentary, directed by Denis Delestrac, and produced by Polar Star Films and Compagnie des Taxi-Brousse, reveals in an audacious investigation the mechanics and perils of cargo shipping; an all-but-visible industry that relentlessly supplies 7 billion humans and holds the key to our economy, our environment and the very model of our civilisation.
Polar Star Films premieres a new documentary that reveals the real cost of imported goods
14/03/16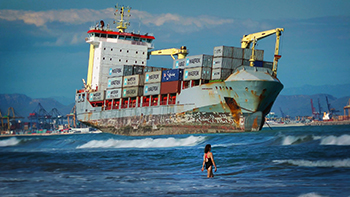 FREIGHTENED – The Real Price of Shipping is the latest investigative documentary produced by Polar Star Films in coproduction with La Compagnie des Taxi-Brousse. This time the team turns its gaze to the cargo shipping industry; an industry that silently keeps our world spinning yet we know nothing about.
No less than 90% of the goods we consume in the West are manufactured in far-off lands and brought to us by ship. This fact makes cargo shipping a key player in world economy; the biggest companies have revenues comparable to Microsoft, and ships are a vital link in the supply chain for modern society. Yet the functioning and regulations of this business remain out of the spotlight while its hidden costs affect us all.
Faced with these facts but increasingly aware that locally produced goods often cost more than imported ones, director Denis Delestrac begins the film asking: How can a jacket that has travelled 48,000 km, more than once round the globe, still cost so little? This very question prompted the beginning of worldwide research into the domain of sea shipping. Delestrac realized there were lots more questions to be answered, such as: What's the influence of shipping on the environment and marine life? Who pulls the strings in this multi-billion dollar business? How is the industry regulated and what's life like for modern seafarers?
Taking us on a journey over seas and oceans, FREIGHTENED – The Real Price of Shipping is the result of an audacious, worldwide investigation that reveals the many faces of the freight shipping industry.
The feature version of FREIGHTENED – The Real Price of Shipping will have its television premiere on Das Erste, Germany on 30th March. The World Festival Premiere is at San Francisco Green Film Fest in April. A short version of the film was shown on France 5 television and RTS, Switzerland, in February to a record audience. More confirmed screenings coming soon. Watch this space!
Upcoming screenings:
Das Erste, Germany: 22:45h 30th March 2016
San Francisco Green Film Fest: 14th- 20th April 2016
Aljazeera Documentary Channel: date tbc
TVC, Catalonia, Spain: date tbc
NRK, Norway: date tbc
SRF, Switzerland: date tbc
SVT, Sweden: date tbc
Knowledge, Canada: date tbc
RAI, Italy: date tbc
FREIGHTENED – The Real Price of Shipping is Polar Star Films and La Compagnie des Taxi-Brousse production, in co-production with SWR/NDR, France 5, AlJazeera Documentary Channel, in collaboration with TVC, SRF, SVT, RTS, NRK, Knowledge, TéléQuébec, and is supported by MEDIA Development, MEDIA TV Programming, ICEC and CNC funding.
Scream and get a Job Today!
25/02/16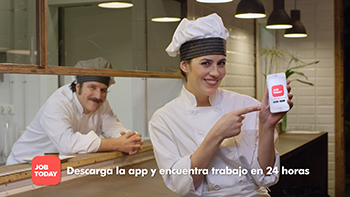 Get ready to scream because we've hooked up again with Commo, The Brand Activists! With the aim of getting rid of obstacles and connecting people and employment, Job Today launches a new Application that helps you to find work in less than 24 hours.
Together with Commo we've created an advert that is fresh, surprising and yet both straightforward and simple, all important characteristics of the App itself. We'll soon have a Making Of to see how we shot the campaign and discover the film location in Barcelona, Spain of Valkiria Hub Space: an ideal location thanks to the variety and currency of it's spaces.
More than 10,000 people have already found work since Job today's launch in 2015. So if you need a quick employment solution, scream like our ad and download the App right now!
El Almendro is back for Christmas!
08/12/15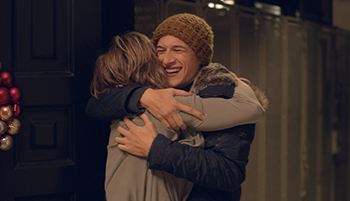 Polar Star Films is proud to be behind the new Christmas advertising campaign of this leading confectionary brand (link a la fitxa del spot a PSF). Once again the Delaviuda Confectionary Group has put it's faith in our hands to come up with a new take on it's now legendary Christmas claim: Come home for Christmas.
Our creative team really pushed the boat out this time, beginning our advertising story in Australia, with a fresh young character who will pull on the heart strings of university students and grandparents alike. Shot on location in Barcelona, yes we didn't actually get to go to Australia ohhhh, with a great cast and directed by PSF regular Iago Blasi.
The advertising campaign is backed by a whole range of offline and online marketing actions including an extremely apt social media competition giving away 5 tickets to bring you or your loved one home for Christmas! All you need to do is record a video that tells your story.
More details here: https://apps.facebook.com/vuelvecasanavidad/
#vuelveacasapornavidad
Media Markt launches radical new campaign with talented Tommy Franklin
16/11/15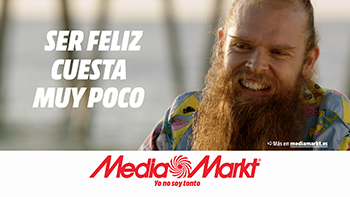 Media Markt surprises us with a complete change of direction in its new advertising campaign! Once again, the agency DDB Barcelona has been responsible for designing this radical new campaign for the electrical goods store. Media Markt has chosen, as they did with Arturo Valls last year, to promote the campaign with a celebrity. But this time they blow you away with a totally different look and perception, much more focused on feelings.
The chosen celebrity is Tommy Franklin, winner of Australia's Got Talent. Famous for his dancing, hugs and good vibes, he looks set to become a household name in Spain as well his native Australia. The advertising campaign for television, Internet, billboards and newspapers, that includes scenes shot at film locations all over Barcelona, ​​is launched under the slogan "Ser feliz cuesta muy poco" (Being happy costs very little).
Polar Star Films was responsible for the chroma-key studio shoot whilst production company Mirinda Films covered the narrative scenes. Following this new look, the post-production team at Polar Star Films will be working over the coming months producing adverts, digital posters and internet banners for the new campaign. We have no doubt that they will surprise you and, if not, at least you'll feel like dancing!
Our new documentary Freightened is in production!
10/11/15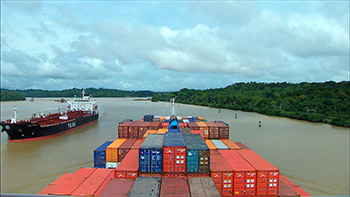 The whole team is really excited about the production of our latest feature documentary Freightened, directed by Denis Delestrac. The project, which reveals the mechanisms and dangers of the shipping industry, features interviews with renown personalities like journalist Rose George, author of the book Ninety percent of everything, or Steve Cotton, Secretary General of the International Transport Workers' Federation.
It is estimated that 90% of the products we consume today in the Western World come from overseas. Container transport by sea has revolutionized the world as much as the printing press or the Internet. However it remains largely obscure to the public. Freightened reveals all the secrets of an industry that holds the key to our economy, our environment and the very model of our civilisation.
So far Delestrac and the team have travelled the world by air, by land and on a cargo ship by sea, from where we have shot some spectacular drone sequences. Also, they have visited cities and countries from Barcelona to Italy, from Philippines to New York and from Hamburg to Paris, among others. Thanks to the international coordination of the team, we have begun post-production and Farr creative agency has designed the graphics. The film will release in early 2015. Stay tuned to our social networks to keep informed!
Freightened is produced by Polar Star Films in co-production with La Compagnie des Taxi-Brousse (France), in co-production with SWR/NDR (Germany), France 5, Doc Al Jazeera Channel (Qatar) in collaboration with TVC (Spain), SRF (Switzerland), SVT (Sweden), RTS (Switzerland), NRK (Norway), Knowledge (Canada), TéléQuébec (Canada), and supported by MEDIA Development MEDIA TV Programming and CNC (France).
World Premiere for The Last Fair by Ricardo Íscar
22/10/15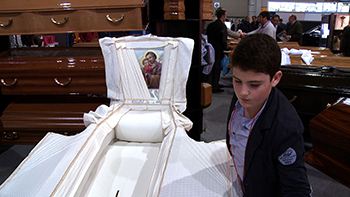 Discover a surreal fair in this tragic-comedy by Ricardo Íscar. We are pleased to announce the world premiere of THE LAST FAIR, medium-length documentary produced by Polar Star Films in collaboration with Ricardo Íscar and Alê Paiva, at the renowned festival Seminci of Valladolid on October 25th at 19.30h.The film is in competition in the Best National Documentary Doc. Spain section.
THE LAST FAIR reflects on the business of death, awash with cleverness, black humour and seduction. Spanish and Portuguese companies from the funeral sector meet every year in Ourense to show off their latest products and services, mindful of the 7 billion future clients that will face this fateful moment sooner or later. There are diamond-studded and mink-lined coffins, hardwood urns, Swarovski crosses as gifts and luxury cars for a high-class public. No, in death we are not all equal, although obviously it comes to the rich as it does the poor in the end. In THE LAST FAIR, morbid fascination, dread and curiosity are washed down with cava and Iberian ham.
Sunday 25th of October at 19.30h
See the full 2015 Valladolid festival programme
Creative Media and Forum Lau Haizetara in San Sebastian, the next destinations for the documentary team
14/09/15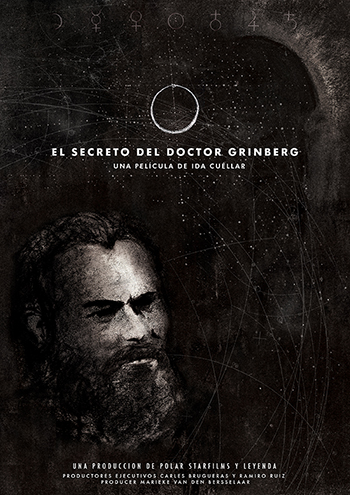 We got back from our holidays only weeks ago but September is going to be a busy month as we have a lot of projects underway!
On Friday 18th, the head of documentaries of Polar Star Films, Marieke van den Bersselaar, will be invited to the workshop organized by Creative Media Catalunya for audiovisual project development. The aim of the workshop is to encourage and promote Catalan participation in this call. You still have time to register!
We will also attend the Forum Lau Haizetara, held in San Sebastian from 22nd to 24th September, with our documentary project in development, The Secret of Dr. Grinberg. The forum aims to bring together professionals from the audiovisual and film sector and has three important stages: workshops, pitching sessions and individual meetings.
Our documentary Freightened, coproduced with the French production company La Compagnie des Taxi-Brousse, has the whole team breaking out in a sweat. Now in postproduction, it has original soundtrack components composed by Ian Briton, British composer known for his music composition for La Fura dels Baus.
The advertising department is running wild too, in fact it hardly stopped during the summer with a big push for Media Mark's campaign El Gran Sinpa. Now the team is shrouded in secrecy, since at any moment it will be shooting the winning 2 minutes with this year's lucky customer.
Locations in Costa Brava and Catalonia attract many foreign producers to our country and in the coming weeks we will welcome a production service with an exotic touch. We will give you further details so stay tuned!
The next few months also look promising for advertising. We've only just hung up our swimsuit, but are aleady preparing for Christmas advertising campaigns!

WE ARE GOING ON HOLIDAYS!
30/07/15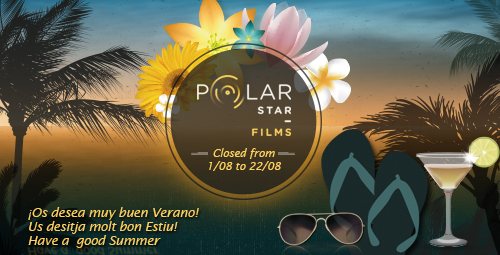 Finally the holidays have arrived! It's been a semester full of projects such as new advertising campaigns for GAES, Wuaki and Media Markt, and many more that are still in process. But the team needs a few days sunbathing at the beach and resting, so we'll be closed from August 1st to 22nd! Don't think, however, that we'll be leaving you empty handed. Here are two great ideas to fill your free time while you're missing us.
The first thing to do is watch our documentary Falciani's Tax Bomb on Filmin, which is now available in 3 subtitled languages!
Once you have done so, we suggest you visit the webdoc "Falciani's Swissleaks: The great bank data robbery", an interactive project that follows the documentary "Falciani's Tax Bomb" with the aim of offering you a playful and emotional perspective of the complex issue of tax fraud. And what's more, you can answer the questions at the end of each chapter and if you play with your family, you'll be able to compare your answers together.
Have a good Summer!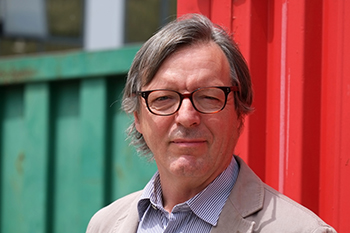 Joan Salvat, commissioning editor for TVC, talks to us about our new documentary and his slot Sense Ficció
21/07/15
We've recently interviewed Joan Salvat, commissioning editor for TVC's documentary slot Sense Ficció. He told us what have been the keys to the program's success, the challenges they had to overcome and what led him to choose and invest in our documentary "Falciani's Tax Bomb". Don't miss anything, he's one of the most experienced persons in Catalan documentary today!
1. What brought you to the documentary world?
I am a journalist and for 24 years I was running 30 minuts, a current affairs programme. Then they offered me a new experience, Sense Ficció. It meant bringing documentary over to TV3, the main channel, something that until then had been assigned to the second channel, Canal 33. And personally, it also meant starting a new stage, as documentary is a richer and more ambitious world that allows you to do things that you aren't able to do with current affairs.
So your involvement with 30 minuts is what has allowed Sense Ficció to become what it is now…
Yes, a little bit, because I had many years of experience of what was being done internationally. When we started with the program 60 minuts, we knew what we were buying and what was being made in the documentary world. We realized that sometimes there were great things that other televisions could broadcast. But TV3 had no slot in which to broadcast them.
2. Therefore it has been your participation and involvement at an international level that have created the slot?
Yes, because international cooperation is very important for many things. Firstly, it allows you to know what is being done worldwide, and secondly because some productions that are to have certain ambition wouldn't be possible without international cooperation.
3. What takes a small idea and turns it into a documentary?
It may be the people behind the idea or the characters that make you realize it can become a great documentary with interest to a large audience. It may also be the level of confidence you can have in a production company, which you know will make work that is at the level of what you're looking for; or a director who has a sensitivity that somehow is linked with what you also want. There isn't something unique; there can be several things.
4. What made you go for our documentary "Falciani's Tax Bomb"?
Well there is the undeniable fact that it's about a current issue: tax evasion. It is such a pertinant issue, and it has been so in the past few years. "Falciani's Tax Bomb" demonstrates, in my opinion, how systematic tax evasion is starting to crack. Systems that have been running for years and years and that increasingly gained importance for economies. The documentary shows how large fortunes always find a way to escape from paying taxes. In this sense, I think the film deals with a highly current affair through one character's personal struggle, and it makes it become a great-unsolved European problem that is still to be dealt with.
Our job as journalists is to go beyond the facts. We must not only see what happened yesterday, but also where the future is going. And in this case there are 10 European broadcasters that agreed to back an issue precisely because of the importance that it has, regardless of who Falciani is or isn't. It is an issue of crucial consequence.
You play an important role in the co-production of international documentaries, but you work with budgets that are well below the big players in the sector, such as ARTE or the BBC...

Often it is not about the money you can invest. The first thing that a producer needs to have on his side is his local public television broadcaster. This is what allows you to go to other broadcasters and find other sources of funding. If the producer doesn't have his country's channels involved, it is very difficult for an international project to succeed. And this, sometimes, is not about the money, but the willingness to support a documentary project so it can find the remaining financing.
5. Sense Ficció has become a reference point, similar to Nordic channels for example, that also work with lower budgets. We know that these channels give a project much more cache than the money itself. How has this come about?
We have always been open to the exterior and have always been interested in what was being done at an international level, even when we were in 30 minuts. For many years we had an agreement with the BBC, from whom we bought a set number of hours per year, and that also helped 30 minuts, at a particular time, to be able to go for more investigative projects. When we started Sense Ficció, the program was broadcast at 12 pm or 12.30. Gradually, we've been able to move to prime time after the main news and the reaction from the public is what has allowed us to do this, because it's been so positive.
6. What are the main obstacles that you've had to face in recent years?
The main obstacle, as it has been for everyone, has been the cuts. We have had to adapt the initial idea to the economic situation, which has been very difficult. We have lost three in-house production lines; we have also considerably reduced the amount we spend on acquisitions and co-productions and, obviously, independent companies have really born the brunt of the difficult economic situation that we are still going through.
7. In terms of content, what is TVC's policy? And in the same vein, do you think documentary should be partisan?
One thing is Televisió de Catalunya in the widest sense. In this sense, what we take into account when producing or co-producing documentaries is to have a line of work that enriches the channel's archives and that can be used at different times, because they reflect the lives of pertinent figures in Catalonia, historical moments, social moments we experience, etc. For Sense Ficció it is different. As we are broadcast in prime time many weeks of the year, we are looking for contemporary documentary pieces that speak to us or make us aware of the world in which we live or where the future lies... This doesn't necessarily exclude historical issues that also make us think about a new world from the perspective of experience. The range of possibilities for Sense Ficció is very wide and that's what we want to keep: both social issues and more personal, historical stories. One example is "Injusticia exprés, el caso Óscar Sánchez", which just won the Golden Nymph at Montecarlo Festival, about somebody who was misidentified. He worked at a gas station in Montgat (Barcelona), and ended up being wanted by Interpol and imprisoned. It was a case that demonstrated the deficiency of information circulating at a European level in terms of policing. Such things focus on what is happening in our society and, if you don't focus on them, they end up going unnoticed.
You manage this flexibility in scheduling very well...
I am very happy with this, because I have been in prime time for 24 years and prime time is always a bit tough and very competitive. Instead, we can allow for broadcast after 11 pm during the Champions League, or later. That's why we can broadcast pieces that are not as competitive. You can choose documentaries just for what they explain. An example would be "Confessions of a Banker", a documentary that won the award for Best European Documentary last year. As you know it's basically an interview of a former banker, it's difficult for the documentary to have a large audience. But, instead, for a program like Sense Ficció, being able to broadcast these programmes, I think gives you that extra interest that is very important to maintain.
8. And if we take a look at what we do, how would you describe Polar Star Films' productions?
Over the years that we have been collaborating, what comes through is the quality of the proposals made by Polar Star Films. This quality is motivated by a great ambition to make real documentary co-productions. You aim to involve the most European public broadcasters as possible, as in the case of "Falciani's Tax Bomb". This ambition leads you to look for the appropriate director, a director who has a certain experience at an international level, who is already recognized and known; and this helps open doors. Being able to get a project of this nature off the ground with 8, 9 or 10 televisions involved is complicated. It is difficult because you have to reconcile the interests of all members of the group who support this documentary. In this sense, Sense Ficció is very pleased with the work we have been able to do with Polar Star Films.
9. New digital formats are on the rise… What would you like to see in the future?
I would like all documentaries to be able to be complemented by digital formats and interactivity. And it is true that the public are getting more and more involved. When you broadcast a controversial documentary, people give their opinions on Twitter, destroying the film and saying, "Why would you listen to this man? We think he's unstable…". And I think this is a good thing. Before the audience was much more passive. They watched what was being broadcast and their opinion had no importance. Now they get involved. This has been a major change in the last few years: the passive viewer is disappearing.
10. What can we expect from Sense Ficció? What's on the list?
We have several productions of national interest in the pipeline. We are doing a portrait of Plaza Catalunya with Lluís Permanyer, who's almost a veteran of the programme. We are also doing a piece on the Hospital del Mar; and we plan to broadcast a film about Messi... Or aim is to bring documentary to different audiences and the widest audiences possible.
Interview by Rose Kowalski and Joanaina Font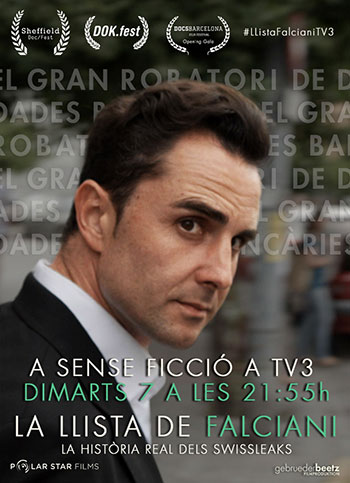 FALCIANI'S TAX BOMB on Sense Ficció, TV3, Tuesday 7th at 21:55h
01/07/15
Falciani's Tax Bomb hits the small screen! This latest Polar Star Films production will be broadcast next Tuesday 7th at 21:55h on TV3 within the slot Sense Ficció. The documentary feature film, co-produced between Polar Star Films (Barcelona) and Gebrueder Beetz (Berlin) for several international broadcasters, analyzes the problem of tax evasion and fraud through the story of Hervé Falciani, the IT engineer who leaked the names of 130,000 secret accounts from HSBC Geneva violently rocking international politics and the global banking system.
The broadcast is accompanied by the launch of the webdoc "Falciani´s SwissLeaks – The Great Bank Data Robbery", that uses the fascinating story of whistleblower Hervé Falciani to offer an inside view into the complex issue of tax fraud to a broad public in an emotional and playful manner. Through a combination of text, video and interactive elements, the user experiences how Falciani's spectacular disclosures affect him personally; as well as being continually provoked to question our own attitude towards tax compliance, betrayal and whistleblowing. A great transmedia experience!
The documentary boasts unprecedented access to Falciani and the main players of this story, including convicts, tax officers and interantional ministers. It analyses the whole story, from Falciani's motivation for stealing the data from HSBC through to the escape and capture of our protagonist. It also demonstrates his collaboration with European institutions in the fight against tax evasion whilst exposing the role played by governments and ministers in the publication, or not, of data and criminal cases.
Use our hashtag #llistafalcianitv3 and share the broadcast on Tuesday 7th June!
Broadcast dates of Falciani's Tax Bomb around Europe:
Arte - June 23, 2015
ARD - June 30, 2015
SWR - June 30, 2015
SRF – August 26, 2015
TV3 - July 7, 2015
TVE - coming soon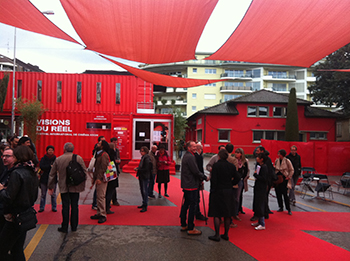 I_docs: Interactive storytelling and expanded documentary
22/05/15
"Describe in one word the 2015 i_docs_workshop"
"Unique. Enabling. Inspiring…"
Okay, okay, I've broken the rules and used three, but sometimes you're compelled to push the boundaries beyond what's expected. This was certainly the case at the i_docs_workshop at this year's Visions du Réel, Nyon.
We're back in the office after 5 intense working days in the extraordinary surroundings of Chateau Bossey in Nyon. Marieke, our head of Docs and myself, Rose, Producer-Director, were lucky enough to take part in this Project Development Programme for Expanded Documentaries that runs concurrently with the festival Visions du Réel. True to the festival's avantguardist nature, Suzanna Holtz and Jean-Pierre Candeloro dished up an enlightening and provocative programme under the wing of Supsi University. Packed to bursting point with classes, case studies and development labs, every one of the 13 projects attending came out of the process stronger, more interesting and most importantly: more meaningfully interactive.
Jiannis Sotiropoulos from Honig Studios, Berlin kicked off the workshop with a very down to earth introduction to interactive storytelling. This independent, collaborative studio quite often leads their productions itself, side-stepping lengthy negotiations with traditional commissioners and broadcasters, opting for private investments and sales business models with in-built returns. Recent projects range from webdoc Atterwasch to children's app Milli, to online game The Spiral.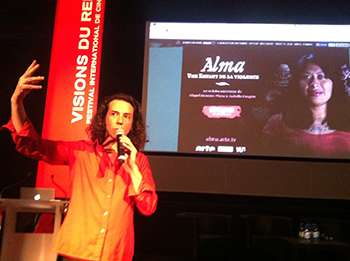 Next up was the enfant terrible of interactive documentary, Alexandre Brachet of Upian. A pioneer of interactive content since 1998, we were given an insider view to pinnacle pieces such as Gaza-Sderot, Alma and their current project Do not track, an interactive series that really chimed a bell for us since it's subject matter, privacy on the web, takes up the baton just where Polar Star Films' Google and the World Brain and facebook app The World Brain left off. In the round table discussion afterwards Alexandre put the commissioning editors on the spot arguing that it's the duty of the public sector to offer quality content to counterbalance the overwhelming flood of commercially driven content available. One of the biggest challenges for producers is financing interactive projects in comparison to linear films.
James Pallot from Emblematic Group propelled us into the future at the same time as giving us a sharp reality check with Nonny de la Peña's virtual reality reportage. These immersive reporting pieces build a virtual reality from limited source material, such as a mobile phone recording of an unpunished crime, in order to promote awareness of the incident and question the course of justice. Despite the tiny audiences that these tech heavy experiences can reach, requiring a motion capture viewing area and with only 4 hand-built head-mounted devices (HMDs) in existence, the quality and the value of the experiences cannot be negated. One of the most interesting distribution strategies has been in the selection of their audiences, early this year they invited journalists from Buzzfeed to experience the project Use of Force without any former knowledge of what they were about to witness. The response was incredible, full body interaction, shouting and being brought to tears. Their latest piece, Project Syria
premiered at the Davos World Economic Forum, meaning that a good number of the world's most important politicians were there to experience it first hand.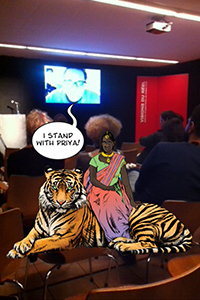 Director Ram Devineni, via skype, and co-producer Christian Popp presented the extraordinary social impact project that is Priya's Shakti. The project mashes up Hindu belief and augmented-reality in a comic book that draws on the retro and the vanguard to use storytelling for a great cause. Reaching out to teens in India using visual and metaphorical language they can relate to, the project also involved Bollywood film poster artists in the creation of several wall murals in Mumbai with augmented reality interaction. Finally we get a great campaign call to action befitting the social media age we live in: we're asked to take a selfie with the on-screen slogan " I stand with Priya" which I suspect no-one will be able to resist sharing on their networks.
Closing the case studies New York based Ink Stories treated us to an in-depth look of their soon to be launched video game 1979 Revolution. This action adventure game based on the events of the Iran revolution of 1979 has been carefully crafted in a beautifully coloured, hand-rendered style knowingly reminiscent of 70s comic books. The creative team behind the project, Navid and Vassiliki Khonsari successfully merge commercial gaming with sensitive documentary making, in a project that promises to reach out to whole new audience.
A big shout out to all the mentors and organizational team at i-docs for their unfailing dedication and enthusiasm during the workshop. We'll be keeping an eye out to see how all the 2015 i_docs projects develop from now on, there's some promising stuff out there!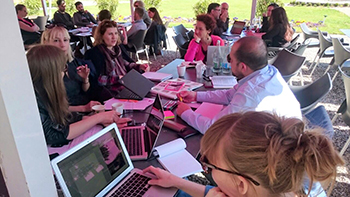 Next stop Sheffield doc/fest for the Crossover Summit, and stay tuned for our upcoming top tips for developing your interactive documentary!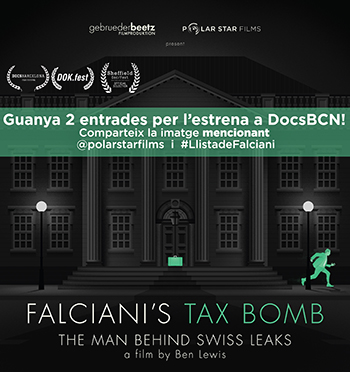 "FALCIANI'S TAX BOMB" WORLD PREMIERE!
05/05/15
The long-awaited documentary "Falciani's Tax Bomb" hits the big screen! This documentary about the real story of Swiss Leaks will premiere in dok.fest Munich on Saturday 9th May. And if that were not enough, it will also open DocsBarcelona at the end of the month and it is selected at the prestigious Sheffield Doc/Fest.
"Falciani's Tax Bomb" comes at a perfect time and is of great relevance given the big impact that the leaks of secret Swiss accounts has had on international policies and on the global banking system. The documentary boasts unprecedented access to Falciani and the main players of this story, including convicts, tax officers and interantional ministers. It analyses the whole story, from Falciani's motivation for stealing the data from HSBC through to the escape and capture of our protagonist. It also demonstrates his collaboration with European institutions in the fight against tax evasion whilst exposing the role played by governments and ministers in the publication, or not, of data and criminal cases.
Have we whetted your appetite? If so, do not worry because we have two tickets to attend the premiere of DocsBarcelona on May 27th. If you want to enter the competition, just share the competition image on Twitter mentioning @polarstarfilms and #LlistadeFalciani. We encourage you to participate and to experience a movie premiere in the flesh!
Here's the trailer:
Co-produced between Polar Star Films and GEBRUEDER Beetz (Germany), "Falciani's Tax Bomb" will be broadcasted from July 2015 at TVE, TVC, Arte, ARD and SWR among others.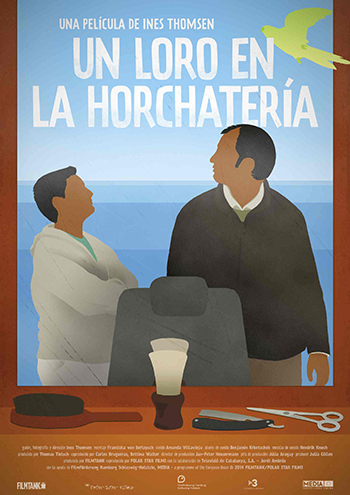 "Parrot at the Milkbar" wins Best Film Award and German cinema release coming soon!
07/04/15
We are proud to announce that "Parrot at the Milkbar" has won the Best Film Award at the 19th Filmfest Schleswig-Holstein and that from May 28th will be on general release in cinemas in Germany!
The award and cinema run follow previous successful screenings of "Parrot at the Milkbar" at DocsBarcelona, Documenta Madrid, Hofer Filmtage, the Festival Internacional de Cine y Derechos Humanos de Valencia and Alcances, and we are confident that more will be on the way in the future.
If you've not seen it yet, we encourage you to see this magnificent story of four hairdressers and their customers in the Raval quarter in Barcelona's Old Town Four small, strange time and space capsules, of people who left their home to find a better one, while the Spaniards are about to leave their own country themselves.
The documentary, co-produced between Polar Star Films and Filmtank (Germany), is directed by Ines Thomsen, with whom we also filmed "Mañana al mar", a director who captures the essence of her characters in this sensitive portrait that grabs your interest from the very first moment.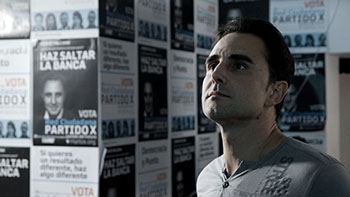 "Falciani's Tax Bomb", World Premiere in Munich & Gala Screening in DocsBarcelona
24/03/15
Falciani's Tax Bomb, Polar Star Films' latest documentary about the recent Swiss Leaks story, will world premiere on May 9th at dok.fest Munich. The film has also been chosen for the opening night screening of this year's DocsBarcelona edition making this the first time that the festival opens with a Catalan coproduction. The documentary feature film, co-produced between Polar Star Films (Barcelona) and Gebrueder Beetz (Berlin) for several international broadcasters, analyzes the problem of tax evasion and fraud through the story of Hervé Falciani, the IT engineer who leaked the names of 130,000 secret accounts from HSBC Geneva violently rocking international politics and the global banking system.
Award-winning director Ben Lewis, (Google and the World Brain, Polar Star Films 2013), returns with an exceptional portrait of Falciani and his list, which includes the names of celebrities and international figures. , Direct access to Hervé Falciani, the story of his persecution by the Swiss authorities, interviews with all the key players across Europe and America and playful animation chart the complete story of a banking scandal on a scale never seen before. Falciani's Tax Bomb is co-produced with SWR / ARD (in cooperation with ARTE, Germany), TVE, TVC, RTS and SRF, in collaboration with DR, SVT, TG4, YLE, with support from NRW, Creative Europe - Media and ICEC (Spain).
See Falciani's Tax Bomb official trailer.
See DocsBarcelona 2015 programme.
For more information stay tuned to our social networks!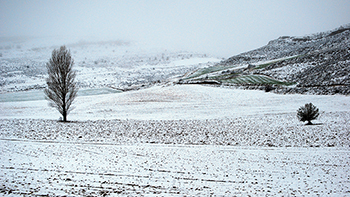 Cinéfondation's Atelier of Cannes selects "Lands of Loneliness"
10/03/15
Lands of loneliness, a feature film by Meritxell Colell, has been selected to participate in the Cinéfondation's Atelier of Cannes. This 11th edition of the festival will invite 15 directors, whose projects have been considered particularly promising. The Atelier offers to directors and producers of films the opportunity to meet with international co-producers and potential partners, a necessary step to begin the production of their projects.
The Cinéfondation's Atelier was created in 2005 to stimulate the creativity of a new generation of filmmakers. Since then, it has supported 156 projects, 103 of which have been boradcasted and 40 of which are in preproduction.
The project by Colell and Polar Star Films, Lands of loneliness, is starring Monica. Dancer and choreographer, she's forced, due to the illness of her father, to return to her hometown after twenty years. When she arrives, the father has died. After the funeral, her mother asks her to stay. An elusive past, a hostile environment and a reason for reconciliation force her to rediscover herself through dance and so to deal with the life she left behing. Lands of Loneliness explores the boundaries between fiction and documentary, between film and dance.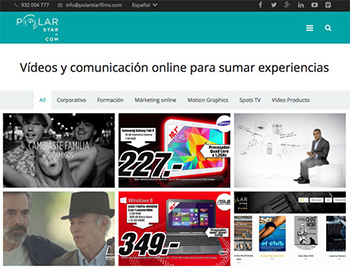 Polar Star Com: a new website devoted to video and digital content!
03/03/15
In June, Polar Star Films unveiled a new company logo as well as undergoing a complete corporate image. One of the projects linked to this renewal is the launch of a new website, Polar Star Com, devoted to video and digital content that complements our existing web, and with which we offer a full range of services with partners and collaborators. The aim of this microsite is to create a new space for discussion related to digital content creation and management for all types of marketing and online communication.
The website, located at www.polarstarfilms.com/digital, is aimed at businesses, e-commerce, agencies and institutions, among others, ans contains a blog about video and online communication and a section that will collect all the opinions of our customers. The design, by Núria Sebastián from CTJ, is simple and conceptual, so our ideas can reach as far as possible.
We launch the Polar Star Com blog with posts about how to unify pages and Facebook accounts, and the Pixar exhibition at CaixaForum in Barcelona. We will publish an interview with the celebrity photographer Xavier Torres-Bacchetta, who has been commissioned to portray our team during a funny and creative photography session.

Be the first to visit the webside and give us your opinion!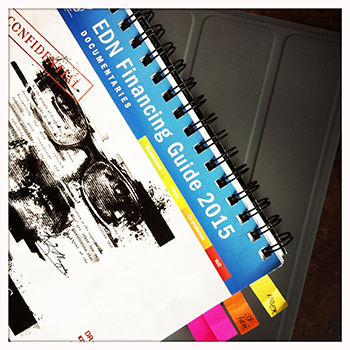 5 top tips on getting your documentary co-production financed in Europe!
02/02/15
With the European Film Market starting in Berlin this week we thought we'd share a few top tips on getting your documentary co-production funded. The EFM runs in parallel with the Berlinale and despite mainly focusing on fiction, they also have a section and programme for documentary producers. Find out more at Meet the Docs.
Polar Star Films' Head of Documentary Marieke van den Bersselaar travels year round to different markets and festivals and will be attending The European Film Market from the 6 to the 10 of February.
Okay, so lets get on with the 5 top tips!
1. Find out what commissioning editors & buyers are looking for
Research who's who, and what slots they represent. Watch TV! Match your project to the slot: interest, duration and number of episodes. Don't try and sell a documentary about your grandmother who was a great poet in Russia in the twenties to a commissioning editor who's looking for current affairs!
2. Become a member of the European Documentary Network (EDN)
Or make sure your project gets picked up by a producer who is. Convincing a local producer to take on your project is the best step to find international co-production partners.
3. Use the co-producers' bible: the EDN Financing Guide
Get your free copy when you attend the IDFA Forum in November / or receive it when you become a member / or order it (100€+postage) by writing an email to edn@edn.dk
Mark up the pages with tabs for quick and easy access. Combine the printed guide with the online guide (accessible for members). The online guide also has info about the contents of the slots etc.
4. Hone your pitch
Make sure you have an excellent pitch, and rehearse it with an audience. Be ready with your one-liner to be able to pitch to anyone at anytime. And, a staple of all good pitches these days is a professional & catchy teaser.
5. Get out there!
Attend the important markets, find out about master classes and other opportunities. Watch the pitches, learn what to do and what NOT to do and get pitching yourself!
Good luck!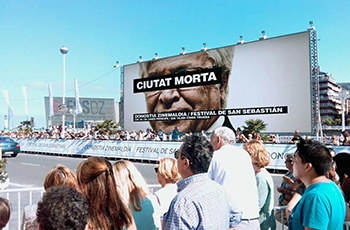 The legacy of Ciutat Morta
20/01/15
It's just over 4 days since documentary Ciutat Morta was screened on Televisió de Catalunya and the media fallout is still ringing in our ears, confirming without doubt the impact it has had not only on the audience but in all media and political spheres of the country. The censoring of five minutes of the documentary by court order and the anger that this caused across social networks generated a so-called Streisand effect: those five minutes viraled through the networks like wildfire and the film got a 20% audience share, a record figure, making it the top-rater for the channel.
The documentary (directed by Xavier Artigas & Xapo Ortega and produced by Metromuster), reveals the torture, bad practices and irregularities surrounding the arrests and convictions in the 4-F case (4th February 2006), and has opened several fronts of criticism, of which two really stand out for us media-dudes. First, the lack of media exposure of the event and case. The surprise for the audience at the events described in the documentary demonstrate the ignorance and lack of informed reporting and make us question how far the long arm of law and institutional forces behind it is able to go in terms of silencing human rights stories and our freedom of expression. It is notable that the film had wait until won awards at the San Sebastian (2014) and the Málaga (2014) before being transmitted by TV3, a public television paid for by the taxpayer.
And secondly, it proves undoubtedly the importance of documentary as an informative and journalistic genre. Although developing a documentary project can be increasingly challenging (take note that Ciutat Morta was crowdfunded), documentaries like Bowling for Columbine or Super Size have led the way for more directors and producers deciding to opt for the investigation and reporting of cases which, otherwise, would become part of a collective amnesia.
There has been a massive media reaction to the TV transmission of the documentary, and I wish this could always be the case. Perhaps the most transcendent reaction has been the requests made by some political parties to reopen the case and do something about the serious cases of corruption that documentary exposes. A heartfelt congratulations to whole the team behind Ciutat Morta and what an inspiring way to start the year with a documentary that really does seem to have the power to change lives.
Best of 2014 & Happy New Year!!
29/12/14
Silent night, Holy ****! Christmas is here! We'd like to use this moment to wish you a Merry Christmas and take a look at the best moments from 2014. Don't miss them!

Top 5 news 2014:
1. Make-up artist Rocío Zambrana reveals the secrets of the profession
2. 10 Tips on how to promote your short film
3. Medimed celebrates its 15th edition, we interview its director Sergi Doladé
4. Barcelona advertising agency RDC reveals the secrets of the change of direction in GAES communication
5. Report from Sheffield Doc/Fest 2014 with PSF's Head of Documentary
Read the full articles below.
Top 5 videos 2014:
1. Wuaki.tv television commercial
¡ATRÉVETE A CAMBIAR!: Anuncio para TV para Wuaki.tv #soywuaki from Polar Star Films on Vimeo.
2. Polar Star Films Video FX showreel
3. Ricoh The Power of Imagination corporate video
El poder de la imaginación: vídeo corporativo para Ricoh from Polar Star Films on Vimeo.
4. Gaes "Una vida para sentirla" television commercial
Gaes "Una vida para sentirla" Vicente 1m30s - spot para internet from Polar Star Films on Vimeo.
5. Media Markt new campaign & corporate makeover
¡LISTOS PARA AHORRAR! LED: Spot TV con Arturo Valls para Media Markt from Polar Star Films on Vimeo.
Top 5 viral posts:
1. Un regulador publicitario investiga el último espot que produjimos para Wuaki.tv por un beso homosexual.
2. ¡Nueva imagen corporativa! Nova imatge corporativa! Corporate identity make-over!
3. Ya tenemos álbum de fotos del rodaje de nuestro nuevo proyecto: Gynoid. ¡Entra en nuestro Pinterest!
4. TV3 estrena el nostre documental "Perruquers al Raval: un lloro a l'orxateria". T'esperem demà al canal 33!
5. El jueves 15 de mayo rodamos el momento #clientedeoro para Media Markt España con Chus Aylon. ¡Te enseñamos las primeras imágenes!
And top 3 upcoming in 2015:
1. "Falciani's List" a new documentary directed by Ben Lewis to premiere early 2015. Co-produced with Gebrueder Beetz for SWR-Arte, TVC and TVE. We're in the final stages of post-production so it's not going to be long now!
2. New documentary going into production.
3. Advertising campaign surprises from Gaes.
We'll keep you posted on our website!
Delaviuda and El Almendro advertising campaigns are back for Christmas
09/12/14
Along with turkey, trimmings and hangovers, Christmas also brings with it a marked increase in advertising campaigns. You would be right in saying that with Christmas comes advertising. Agencies all over the world put their minds to drumming up catchy and innovative ideas for the big brands in their quest to outshine the rest in what becomes a constellation of prime time commercials.
What do most Christmas advertising campaigns have in common? The vast majority go for the emotional touch, using universal narratives to which we can all identify and psychology that pulls at our heartstrings. Confectioners El Almendro and la Confiteria Delaviuda don't want to miss out on the festive season either, with both campaigns showing commercials produced by Polar Star Films. Their slogans "Come home for Christmas" and "Making Christmas sweeter since 1927" both appealing to a sense of tradition and family.
In Spain it sure doesn't feel like Christmas has started until the big players, like the Lottery and Freixenet, have launched their campaigns, some of which become legendary, and which everybody is waiting for. Watch your screens and delight. We wish you a Merry Christmas!!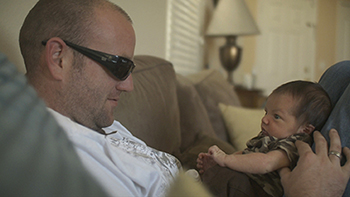 We're back from IDFA!
01/12/14
The Polar Star Films team has just returned from IDFA, one of the most important documentary festivals in the world and a must-attend for fans and professionals alike. Now that they are back at their desks, we asked them which documentaries stood out and which were the best moments of the festival.
Among the documentaries, the team chose Citizenfour (Laura Poitras, USA / Germany, 2014); The Look of Silence, which premiered almost simultaneously in Amsterdam and Indonesia and ended with a Q & A with the extraordinary film director Joshua Oppenheimer; My Beautiful Broken Brain (Lotje Sodderland, Sophie Robinson, UK, 2014); The Salt of the Earth (Juliano Ribeiro Salgado, Wim Wenders, Italy / France, 2013), which used a remarkable interview technique of projecting photographs in front of the camera; 35 Cows and a Kalashnikov (Oswald von Richthofen, Germany, 2014) and, finally, Something Better to Come (Hanna Polak, Denmark / Poland, 2014), winner of the Special Jury Prize.
The award for Best Feature-Length Documentary went to Man and War (picture still above) by Bécue-Laurent Renard. The jury recognized it as "a film that confronts us with our fragility as human beings, revealing that we must treat each other with gentleness and love".
The festival is held at the same time as the documentary market where commissioning editors, broadcasters and sales agents meet with producers to arrange possible collaborations. Polar Star Films was present this time, as well as last year, when we were lucky enough to win the Moderator's Hat Pitch. This year's winners were the producer Sorin Manu and the director Stanca Radu, both Masterschool colleagues with our head of department Marieke. Congratulations!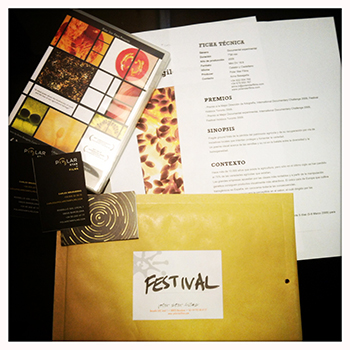 10 Tips on how to promote your short film
24/11/14
If you are a film student or you yearn to be a filmmaker, this article is for you! It's very likely that at some point you made a short film for which you got all your friends involved, that you broke the car that your father lent you and that you spent last penny. What happened to that short when finished? Are you preparing your first short at the moment and you are worried about what to do with it afterwards? Polar Star Films has a wide experience in promoting audio-visual projects and we hope these tips on how to promote and distribute your short film will be useful:
1. Learn from your mistakes
If you've made your first short, it's probable that there are things you would change or did not go as expected. It's okay, it's totally normal in fact! These things happen when you start something new. You will have to make lots of work and improve your skills to get to a point where you're comfortable with the results. It's good to be critical, but there's much to be learnt from showing your work to others in order to learn from mistakes in order to improve.
2. Watch out for festival eligibility
Before submitting your project in a festival, you should read the regulations carefully. All festivals have a section with this information. Within the regulations you will find details about who can participate, what kind of projects, what production dates are eligible, who is in the jury, if you have any obligations as a participant and all you need to know before you sign up.
3. Cost
Bear in mind that some festivals require a payment on submission. Especially in the US, but sometimes also in Spain and other European events, you will be asked to pay a fee to participate. Some festivals waive submission fees for international submissions. A good trick is to have a planned budget that includes the distribution of the film. This will help you to take good decisions when you face this issue.
4. Where to Premiere
Some festivals require exclusivity, which means that the short cannot have been released in their territory, therefore your fesitval list requires a strategy. You can play with this opportunity more than once. There are festivals which require a World Premiere, others European, others in Barcelona, Madrid ... You will find many options and being selected in national festivals will work in your favour when you send your film to international festivals.

5. Do not wait until the last minute to fill the form and send the material
Every festival follows a selection process. Therefore, we recommend that you submit your work in the first phase of the selection process, and the sooner the better. If you send it at the end, the jury is already thinking about other films and, as they must see hundreds of films, it is more difficult for them to decide.
6. Submit your project when completed
Try to submit your short film when completed. If you submit an incomplete version, you're not giving the jury all the opportunities to fall in love with your work. If you consider that the project still needs tweaking or could be improved, you cannot expect others to give it the benefit of the doubt.
7. Optimise the delivery of material to festivals
UpToFest is a website to upload all the data about your short in one place. It will help you to easily submit your project at festivals since you won't have to copy the information every time. There are many other websites that work similarly, such as With Out A Box.
8. Get help from a distributor
You also have the option of hiring a distributor like Marvin Wayne or Playtime Audiovisuales. The biggest advantage of hiring a distributor is that, thanks to their experience, they will be able to improve your marketing strategy and they will distribute your film through alternative channels. The disadvantage is that you usually have to pay. Once your film has done the festival rounds then you can make it available for video-on-demand with Filmin or Distrify for example.
9. List of festivals
Finally, if you want to know where you can send your projects and need help looking for festivals, we recommend Catalan Films . Here there is a list of festivals that allows you to filter by location, type of film and more.

10. Have fun!
Whatever you do, remember that the most important thing is to have fun!

If you liked this article, give us a Like on Facebook and we will notify you of upcoming articles. Follow Us!
Corporate image makeover and new campaign for Media Markt Spain!
14/11/14
Media Markt Spain celebrated its 15th anniversary but a few months ago, and today they're surprising us with a complete change in their corporate identity. During the audiovisual post-production of the advertising campaign, carried out by Polar Star Films, it became clear that Media Markt has decided to distance itself from black, and is now focussing on white and red, which has until now been indisputably associated to the brand. For the new image the style is less brash and more elegant, but has not lost the dynamic 3D images and the flow of products that define this brand.
For their TV commercials, one of the main changes is the disappearance of the beloved stuffed foam puppets that caused occasional controversy. Instead, Media Markt has opted for the journalist and actor Arturo Valls, known for his appearance in films such as Torrente 2 or on the television program Caiga Quien Caiga.
Media Markt is a multichannel company, giving them both online and high-street presence. Therefore this change in corporate identity will be applied to all communication networks and facilities and reflects the desire to unify the brand's characteristic style in Europe. There are however many things that the brand is retaining, for example the slogan "Yo noy soy tonto" (I'm no fool) a slogan that defines them unquestionably and which everyone relates to.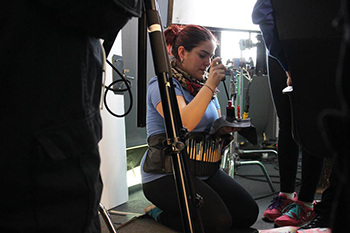 Make-up artist Rocío Zambrana reveals the secrets of the profession
10/11/14
We interview make-up artist Rocío Zambrana, who has been working with us at Polar Star Films since May, when she started as an intern for the production of the fiction short film Gynoid. Since then, we have counted on her various projects including commercials for GAES and Wuaki. Fun, friendly and hardworking, she tells us what her first steps into the world of production have been like and gives us some helpful tips. Don't miss it!
1. Why did you decide on this career?
At first I started studying characterization for special effects, such as prosthesis or reconstruction, because my first intention was work as a funeral make-up artist. But in the end and after having been lucky enough to work for producers and having worked on several commercials, clips and other videos, I chose to follow the branch of make-up for cinema and television.
2. What are your goals? Where would you like to work?
I want to devote myself to the world of television, commercials, or even open an academy.
3. What did you expect of the profession and what you think of it now? Were you disappointed or surprised?
When I started I was convinced that I was not up to the job, but I've begun to realize that it's what I really love. It has been great to find that at only 20 years old I've been able to work with top professionals, finish school and find work, because it is a very competitive world and, therefore, difficult to get recognised.
4. What advice would you give to people who are attempting to work in make-up for film? What problems will they find along the way?
My advice is to not get discouraged even if there is a long way to go. Fighting for what you want is the right thing to do, because at some point or another you'll get a break. The most common problems are that people need you work done in two minutes, when it usually takes longer. You'll be pushed hard and must face all challenges. The most important thing is that they see that you have initiative.

5. How has the experience of shooting with PSF been? Any stories?
It has been very gratifying and rewarding as you are a great team of professionals. They take into account your comfort and make sure you don't miss anything... For me it's a great production company. At a shoot in Arenys, I got sunstroke and had someone from production looking after me the whole time, telling me that I looked red enough to fry an egg to make me laugh.
6. Who was the first person you made up? Which celebrity would you like to make-up?
The first person I ever made-up was a classmate. And I would like make-up Lady Gaga because of the extravagance of her style, for me it would be a challenge.
7. What is the main difference between make-up for television and make-up for going to a celebration, for example?
For an advert or television, you need to use a type of high definition make-up and be more radical, depending on what's asked for, and for an event, depending on the subject, it will vary, but it will usually be evening wear make-up that lasts.
8. What make-up schools do you recommend in Spain?
Thuya Escuela (Barcelona), Stick Art Studio (Barcelona) and Escuela de Maquillaje Menchubenitez (Cordoba).
9. Now that Christmas is on its way can you give us any advice on make-up or colours?
Use bright and loud colours, like green, red, silver and black with iridescence.
10. What is the essential item?
Concealers! They are miraculous!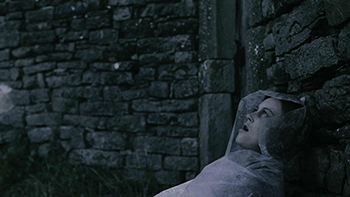 What soundtrack will you play for your Halloween?
27/10/14
The song writer Bernard Herrmann said that music should replace what the actors can't manage to say and should provide what words fail to express. Anyway, there is no doubt that music has played one of the most important roles in the history of cinema, and that some soundtracks have become legendary in our audio-visual history.
Of course the horror genre is no exception. Beyond the fact that movies like "The Shining", "Dracula" or "Jaws" have become true classics of cinema for their absolute brilliance, there's one thing we cannot deny: that "The Exorcist" and "Poltergeist" would not be the same without "Tubular Bells" by Mike Olfied or "Carol Ann's Theme" by Jerry Goldsmith, respectively. The shower scene in "Psycho" would surely not work with "Singing in the Rain", although it would be fun to try! And if you don't believe that music affects the narrative of history, take a look at the link: https://www.youtube.com/
Horror movies are based on atmosphere: it prepares us to be susceptible to fear, to be surprised, to be deceived or it turns the scene around in the most unexpected moment. Noises, violent chords or simple lullabies are assembled with low-angle shots, contrasted light and characters to build the beginning of all our nightmares.
Now that Halloween is getting closer, it is a good moment to get those works of art back. Works of art that are able to evoke, influence and communicate all the things that we can't see but hear while watching a movie. Tell us: what soundtracks give you goose bumps?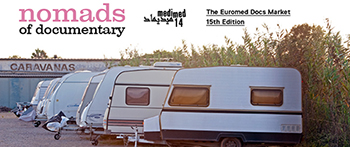 Medimed celebrates its 15th edition!
13/10/14
The arrival of autumn marks one of the busiest periods for documentary production in terms of markets and festivals. In this sense, as a production company established in Barcelona, we are lucky to be near one of the most renown documentary markets nationwide, MEDIMED, held in Sitges and beginning this Friday for the 15th consecutive year. For this special occasion, we've interviewed the director of market Doladé Sergi, who explains the news, the reasons and the secrets of this 15th edition.

1.This year is the 15th edition of the market. Are you holding any special celebration?
Every year we celebrate that we exist, but this year we're celebrating the more than 250 documentaries produced during the last 14 years ("Google and the World Brain" among them), thanks to PITCHING FORUM and especially thanks to the good judgment of professionals who have joined the project selection committee year after year. We also celebrate the volume of business that the market's Videoteca generates in absolute terms and we've created a new formula that will give a twist to traditional pitching: the ANTI PITCH. We will open MEDIMED House in Hotel Capri where participants can pitch while playing ping pong and table football next to the pool!
2. Why is MEDIMED held in Sitges?
Try to find a town in the Catalan geography like Sitges! You won't!
It is located in a privileged place, 25 minutes far from Barcelona and the airport. It has an enviable microclimate and it's one of the few Catalan cities with seaview. Visit the coast and you'll understand what I mean...
3. What differentiates your market from the others?
The same that differentiates you from me. Each has its own personality. With every market you can achieve different results and objectives and when you work with public money, that has to be the absolute priority. With very few resources, you have to achieve great goals that can be tangible and intangible. What strictly differentiates us from the others, only producers and broadcasters can tell. My answer would be invalid.
4. What feedback do you receive from the participants?
They want to come back year after year! Unfortunately it is not possible. MEDIMED can only accommodate 250 participants and their accreditation is by invitation only. Producers must be selected to present a project or attend meetings one-on-one with buyers and distributors. Over the years, we have formed a large family integrated by TV executives, experts, distributors and producers from Europe and the southern Mediterranean coast that don't want to miss it.
5. What are the keys to a good pitch?
You must know your project and what you want very well, have stage control, and especially understand that it is an exercise of trust, where being persuasive is essential. A pitch is a staging of the virtues of the project and must be well defined so that the commissioning editors want to know more after the 14 minutes. Seducing and convincing them is a challenge.
6. What kind of projects is MEDIMED looking for?
Good projects. Solid and interesting for the market, useful for the audience and that provide high quality and original creative elements. We could say that most of the selected projects deal with human rights, current geopolitics, the recent past of humanity and art forms. We look for originality in the approach of the documentary work and we like to discover new talent. However, there is a non-negotiable criteria: the project has to be attractive to international television slots.
7. What is the most exciting thing that new technologies can offer to documentary and how is MEDIMED responding to the change that these technologies bring?
The mere fact that the new technologies are already useful and accessible to the creators of audiovisual content is exciting. This year, with the support of Creative Europe MEDIA Catalunya Office, we organize the first edition of MDMD CROSSTRAINING, an exclusive 48-hour stage for 7 Spanish producers who are developing a webdoc project. They will have the unique opportunity to have 7 international experts guiding their projects so they can improve key aspects to ensure funding. We are very happy to have Amélie Leenhart from Tribeca Film Institute, Clint Beharry from Harmony Institute, Gerry Flahive from Modern Story, Théo Le Du from Cosmographic, Miguel Campos from TVE, Ferran Clavell from TVC, Jordi Martin from Ubisoft and Alex Pearson as moderator. As you can see, a new challenge that marks a new direction...
8. What are MEDIMED's plans for the next 15 years?
The English say that there is no better improvisation that the one that is well planned. In MEDIMED we take care of every last detail regarding the aspects of the program content, the selection of projects and finished documentaries, and guests because we want them to have the highest quality experience and to inspire us to reinvent ourselves. The premise is to maintain quality and make no concessions to artifice. This is the plan!
This year we have chosen a leitmotif that can also answer your question: NOMADS OF DOCUMENTARY, in dedication to all the nomads who express stories from all over the world honestly and ethically through narrative documentary. In the next 15 years we will follow their path and once a year we will call them to come to Sitges, the essential, true business and meeting point for nomads of documentary.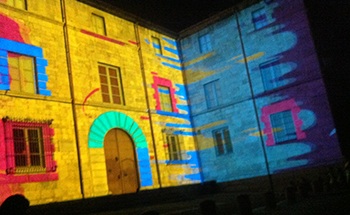 Fall in love with this year's video mapping
22/09/14
If you're still in the midst of the celebrations of Les Festes de la Mercè like us, you will have scheduled in your agenda one of the most anticipated events in the program: video mapping projections on the facade of the City Hall of Barcelona, sure to be one of the biggest crowd-pullers of the festival. But what is video mapping?
Video mapping uses projection technology to convert irregularly shaped objects, such as the facade of the City Hall, into gigantic projection surfaces. By using specialized software, artists can create optical illusions, make movable static objects and add non-existent dimensions.

Although many believe that this visual art is relatively new in the world of performing arts, one of the first projections onto a non-flat surface dates back to 1969, when at the Opening of the Haunted Mansion at Disneyland the singing faces of Grim Grinning Ghosts were projected onto busts of the actors. Since then, however, this technique has been increasingly refined and video mapping has been linked to electronic music, audio-visual experimentation and has become a multidisciplinary art combining projections with other arts like music, dance and film.
Barcelona is obviously not the only place where you can enjoy such projections. Aiming to stimulate and strengthen the choice of the city as a film set, Girona decided this year to launch its first International Festival of Mapping, and there are other international festivals like the Mapping Festival in Geneva that this year celebrated its 10th edition or Liveperformesmeeting in the Netherlands (http://liveperformersmeeting.net/) .
If you have never seen live video mapping, we encourage you to attend one of the four sessions in the Festes de la Mercè that take place Wednesday at Jaume I square. This year the theme is a love story between a building in Barcelona and a building in Stockholm, the guest city this year. That's why the video mapping will be projected both onto the facade of the City Hall and in Arvfurstens Palace in Stockholm, headquarters of the Swedish Ministry of Foreign Affairs. The event promises to be a great experience!
Hashtags:
Merce barcelona
Videomapping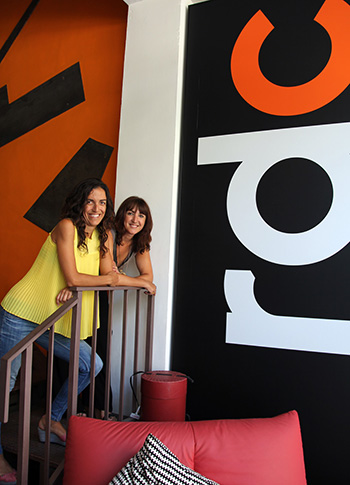 Barcelona advertising agency RDC reveals the secrets of the change of direction in GAES communication
09/09/14
We interviewed Remei Roldan and Susana Martinez, CEO and creative director respectively, about Gaes, a well-known brand of hearing aids, and their objectives for the new advertising campaign "Una vida para sentirla". Interview by Rose Kowalski.
Where did the idea for this campaign come from?
The idea came from the need for a change of direction in GAES communication to focus on the personal experience of hearing problems, show the benefit of good hearing and to show how GAES helps them achieve this.
The campaign idea could not be based on rational arguments. We had to show that the sense of hearing is intimately related to emotions, feelings, to transmit a more human, sensitive, emotional and modern approach and create an emotional bond with the brand.
And for the story to be even more exciting, more believable, we thought: why don't we make a GAES client have a unique and unexpected experience and see what happens? And this is the result.
As viewers, we already knew Imanol Arias as the face of GAES. What's different about this new campaign?
Because we wanted to get closer to the customer, Imanol could not be a mere spokesperson, but would have to transmit GAES' values and get closer to the audience. So Imanol changes from being a prescriber communicating logical messages to being an "ambassador of sound": GAES is personified and humanized by Imanol's figure. He helps us to transmit GAES values: professionalism, confidence and experience, and to show a compassionate and more humane image.
How was the experience of working with real people?
Fantastic! Vicente and Mercedes are wonderful, full of energy, passion, and people with a lust for life. They welcomed us with their arms wide open and were very excited about the project. Besides, their stories are fantastic and they are good communicators. What else could we want? Therefore we prepared their surprises with great enthusiasm, wishing wholeheartedly that we could make them experience a unique moment, a small tribute.
How did the director and production team influence the campaign?
As soon as we heard the first interviews with Mercedes and Vicente, we saw the potential that their stories had to emotionally move the public. That's why Iago Blasi decided to give the commercials a documentary treatment, but being careful with the shots and photography, because we couldn't forget that we are doing advertising.
The production of this campaign had to involve a great producer, and I'm not talking about dimensions. It had to have the necessary technical and human resources, but also the flexibility and responsiveness that was required. Polar Star Films' great track record in the production of documentaries and advertising worked in our favour for this project.
Have the client's expectations been met?
Yes, above and beyond. We have again confirmed that truth is stranger than fiction. Both the marketing department and management were very brave backing the campaign before we knew what story would be told, nor which character, nor shooting location... But challenges are always exciting!
To find the characters for the campaign we had the cooperation of audiologists in Spain. It was they who carried out the first casting with customers. The entire company participated with great enthusiasm from the beginning.
In which media and platforms will we be able to see the campaign??
"Una vida para sentirla" is a 360-degree campaign. In addition to the TV and radio spots, press, PLV, there's a website: www.unavidaparasentirla.com. Visitors will be able to read more about Mercedes and Vicente stories, see the extended version of the adverts, the making of, the talks held with Imanol and also, if they are hearing aid users, they will be able to share their story with other users. And who knows, someday they can star in another advert!
What advantages does a small agency like yours offer to a big brand like GAES?
A small company like ours can afford to be 100% client focused and RDC has done so since day one.
When I created the agency I went for a multidisciplinary advertising agency, totally client focused and in which all processes are carried out with the utmost rigor and agility. To create an agency without static departments since they only contribute to bureaucracy problems. Moreover, we have a team with great human talent hard to find today. Not everything comes down to being a great professional, but also to be a great person, a condition sine qua non to work at RDC.
What can we expect from GAES in the future?
This campaign marks a before and after in GAES communication. So far, the campaign was focused on rational awareness messages on the importance of hearing revision and checkups. Now we want to show that hearing aids are not just for old people, but for those who want to live life fully without obsessions or prejudices. The campaign is a tribute to all these people.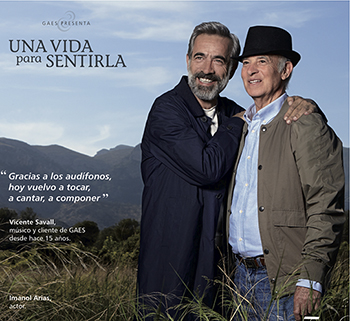 Gaes premieres a groundbreaking advertising campaign
08/09/14
GAES today launches its new campaign "Una vida para sentirla" (web link " Una vida para sentirla"), a 360-degree advertisement campaign that marks a turning point in the brand communication. With a radical conceptual change, GAES approaches the experiences of people with hearing problems to show the personal benefit they get thanks to hearing aids and the staff that conforms GAES.
The advertising campaign has been conducted by the advertising agency RDC Comunicació and the production company Polar Star Films. The commercials for television and digital channels count with director Iago Blasi, who from the very beginning has shown great skill in adapting himself to this new situation of not having professional actors but real people testimonials. We are also very pleased to work closely with RDC who has made a great work with Polar Star Films and has relied on our criteria.
"Una vida para sentirla" continues with the participation of famous actor Imanol Arias, which until now has been the face and spokesperson for the brand. In this case, however, he becomes "Ambassador of sound" approaching with kindness and simplicity the real characters of the campaign: Vicente and Mercedes, composer and teacher, respectively.
To find the stars for the campaign, we cooperated with hearing aid specialist from all around Spain, who maked the firsts castings among the clients and have been involved with enthusiasm and professionalism from the very beginning. The spots were filmed during May in Yecla and Gandia (south-west Spain), and Blasi decided to give them a documentary treatment but taking care of the shoots and the photography. Precisely for these reasons, and because it required a large response and flexibility, Polar Star Films decided to get involved, and to contribute with its experience in documentaries.
We therefore invite you to watch the ads in the campaign" Una vida para sentirla" and visit the campaign website, where you can find out more about the stories of the characters, see the extended version of the spots, the making of, talks with Imanol (vídeo de xerrades a la web "Una vida para sentirla"), and if you are a hearing aid user you can share your story and who knows, maybe be the main characters of the next spots!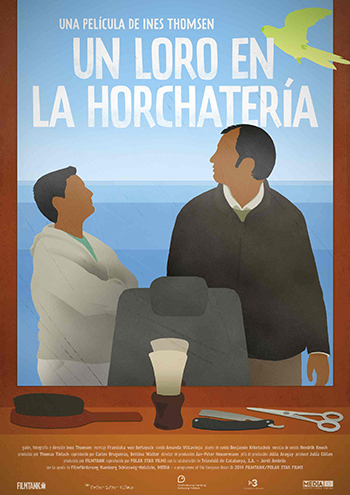 Screenings of Parrot at the Milkbar in Cádiz
01/09/14
After the world premiere of "Parrot at the Milkbar" in Documenta Madrid 2014 and its participation in DocsBarcelona this same year, the documentary takes flight again to participate in another festival, Alcances, which takes place in Cadiz from 6th to 13th September.

We would like to take the opportunity of this great news to share Documenta Madrid's interview with Ines Thomsen, the director of this documentary film, in which she explains her motivation to make the film and why she decided to film from the point of view that she did.
"Parrot at the Milkbar" tells the story of four hairdressers and their customers in the Raval quarter in Barcelona's Old Town. Four small, strange time and space capsules, of people who left their home to find a better one, while the Spaniards are about to leave their own country themselves. The documentary is Ines Thomsen's second documentary to be produced by Polar Star Films. It is an international coproduction with Filmtank, Germany.

Summer break
28/07/14
Summer's finally arrived and so we're rushing around trying to tie up everything before the break for holidays. Bear in mind that Polar Star Films will be closed from the 4th until the 22nd of August
Happy holidays!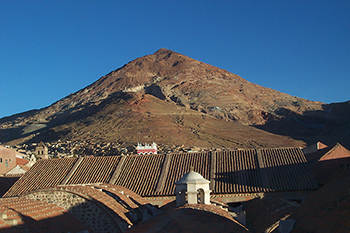 Miners to abandon deteriorated peak of Cerro Rico de Potosí, scenario from the documentary "The Devil's Miner"
21/07/14
Alarm bells rang this month at the Cerro Rico mines in Potosí, the very same mountain that was the scenario of the documentary "The Devil's Miner" (2005) by Polar Star Films.
Due to the pure dynamite explosions and with more than a hundred kilometres of tunnels running inside the mine, the mine is in danger of collapse trapping thousands of miners inside. Declared World Heritage in Danger by UNESCO, the mountain supports the families of the nearly 12,000 miners working the area. It is for this reason that the Bolivian government has decided to relocate in six months all the miners to take up other work areas as a plan to protect the iconic and deteriorated mountain.
The silver mines of Cerro Rico, whose peak is 4,702 meters above sea level, have been exploited nonstop since 1545 and were a major source of income for Spain during colonial times. Currently, its peak undergoes a process of internal collapse equal to three centimetres a day, according to government assessments.
In 2005, Polar Star Films released a documentary about Basilio Vargas and his brother Bernardino, 14 and 12 years, respectively, who worked in this mine. Through their eyes we discover the world of the miners, devoted Catholics, and how they break their ties with God when entering the mountain, as it is believed that the Devil, represented by hundreds of statues constructed inside the tunnels, determines the fate of those who work in the mines. We'll see what future will bring to them.
For more information visit the oficial site http://www.thedevilsminer.com
To buy a copy on DVD please contact us!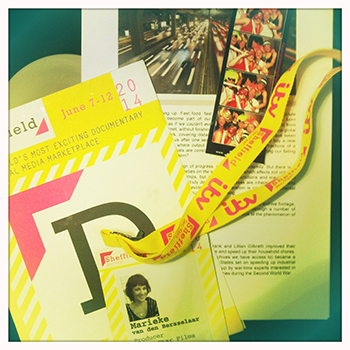 Report from Sheffield Doc/Fest 2014 with PSF's Head of Documentary
30/06/14
As we mentioned a few weeks ago, Marieke was selected to attend Documentary Campus Masterschool, a European development program that offers filmmakers the opportunity to access the international non-fiction market. A week after her return, she told us what impressed her most about the experience.
What surprised you the most?
Undoubtedly, what surprised me the most was that not only could I learn from the professionals that give the workshops and conferences during the Documentary Campus, but also from the other students with whom I shared this experience. Many of them have been in the documentary world for a long time and know how to handle it.
What is the main challenge facing your project now?
As always, the hardest part of any project is to fund, find funding sources that are willing to invest in your project, despite it being at an early stage.
How was the project received?
To introduce our project to the others, we made a teaser. But we realised it did not work because it was too obvious and had pictures that may describe many clichés, images that have been repeatedly seen in other documentaries. For the next teaser we will show our own point of view.
What will make your project stand out from the others?
Perhaps the main difference is that it has a strong background in research, scientific and academic information. It's a creative documentary with a strong research base behind it.
Any good tips to share?
We were given several different financial fund references which could be interesting and that could help us with the project. As well as encouraging us to change the teaser, we also received some ideas of people we could interview.
We know that the Doc Campus and Sheffield Doc/Fest is not all work and no play... What fun did you get up to?
The tenth anniversary party for the distributor Dogwoof was fun. They had set up a photo booth and wigs so you could take the funniest pictures and there were quite a few drag queens to spice up the party. We ended up dancing with a lot of commissioning editors on the podium next to the DJ!
Of all the workshops, which was the one that impressed you the most?
There were three that I really liked. "Trailer introduction" by Sigrid Dyekjær, a Danish producer with years of industry experience that taught us the intricacies of teasers; "Two mins workshop" by Roger Graef, who gave us advice so our teaser is sufficiently attractive to the audience during the first two minutes; and "How to: Clearances" by Elizabeth Klinck, one of the greatest archive and clearance specialists in the world.

What is the most important thing you learned?
I learned how to present things to the others. Not only in terms of paper or audio-visually, but how to show things in person so others can understand them; how to approach the project.

Which Doc/Fest documentary stood out most for you?
"Last Hijack" by Femke Wolting and Tommy Pallotta.
When is the next appointment with Documentary Campus?
In mid-August, in Malmö (Sweden). This time we will work on our teaser and the focus will be how to fund the documentary and control the costs.
We are going to have to wait till after the holidays so you can tell us more!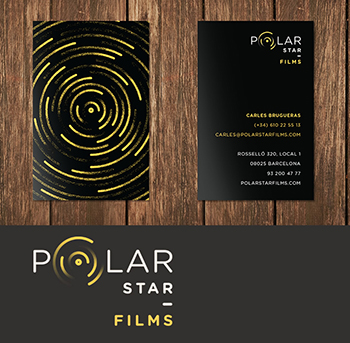 Polar Star Films gets a corporate identity make over!
17/06/14
The team at Polar Star Films production company proudly presents its new logo and completely renovated corporate identity. We've been itching to show it off! The new logo is inspired by the circular movement that the stars make around the Pole Star. Just check any time-lapse recording or long exposure photograph abundant on the Internet and you will see that over time all the other stars appear to rotate around the Pole Star (North Star) whilst it remains static at the centre. We also think it looks a lot like the iris of a camera lens, bringing a nice film reference to the new audiovisual branding. The team behind the new corporate identity is Moontain creative agency, with Marc Vila and Joan Ferrer, two creatives with long track records, at the helm.
We love that they maintained the corporate colours that have become part of Polar Star Film's story, making for easy and minimalist branding and design. Yellow, grey, white and black: colours easy to combine, sober, elegant but also not to be missed. Yellow dominates the web and social media, and Gotham Rounded is the chosen font, considered extremely "elegant" by the well-known tech and design blog InfinityLab.
We have high standards of quality for our film and advertising productions and it's only right that that be reflected in the production company's corporate identity. None of this changes the philosophy or functioning of the company, we continue to be devoted fans of good documentary, film production, creative advertising and new communication technology. We continue to work and strive for the best for our clients and look forward to working with new ones too! We'd like to know what you think of the change, its a response to what's out there and we believe it's going to last. What do you think of the new look? Do you like it?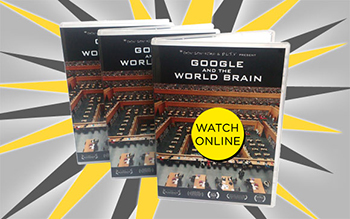 Google and the World Brain available on DVD and streaming worldwide!
12/06/14
Since it's World Premiere in Sundance 2013, "Google and the World Brain" has been screened at more than 70 festivals, including Sheffield DOC/FEST, DOXA, CPH:DOX, San Francisco, New York, & Real Film to mention but a few, and broadcasted on more than 20 channels worldwide. Furthermore, earlier this year the film was awarded the prestigious journalism award: First Place National Headliner Award for Documentary.
If you haven't had the opportunity to watch it yet, don't worry! DVDs are on sale now from Polar Star Films Shop, and, for you digital bunnies, we are also delighted to announce that it's available for streaming worldwide now on our website through Distrify.
The documentary tells the story of the most ambitious project ever conceived on the Internet. In 2002 Google began to scan millions of books in an effort to create a giant global library, containing every book in existence. They had an even greater purpose - to create a higher form of intelligence, something that HG Wells had predicted in his 1937 essay "World Brain". But over half the books Google scanned were in copyright, and authors across the world launched a campaign to stop Google, which climaxed in a New York courtroom in 2011. A film about the dreams, dilemmas and dangers of the Internet.
This is what the press said about the film:
"Endlessly fascinating and engaging... It's probably the best documentary you'll see all year." Huffington Post - Lucas McNelly
"'Google and the World Brain' is a masterful documentary. It will undoubtedly have an effect on anyone who sees it." Indiewire - Julie Fischer
"As Ben Lewis's well-argued documentary shows, Google started their bold initiative apparently without realising the storm it would create. But opposition came from authors who held the copyright to their books: they regarded Google's scheme as corporate theft." The Telegraph - David Gritten,
To buy the DVD please visit www.shop.polarstarfilms.com
To watch online please visit http://www.polarstarfilms.com/en/watch_google-and-the-world-brain.php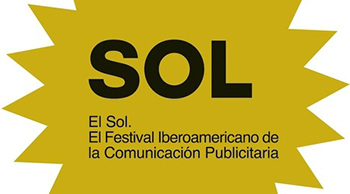 El Sol Festival, a landmark for Ibero-american advertising kicks off this week
26/05/14
El Sol, the annual Ibero-american festival for advertising and communication and one of the most important worldwide, begins on Thursday in Bilbao. The latest news published by the festival indicates 2,296 campaigns in competition this year, which means almost a 13% rise in participation on last year's figures.
Taking a look at last year's winning advertising campaigns, several come to mind including "Inmortal Fans", a campaign by agency Ogilvy Brasil for Sport Club Recife, "Aquarius Pueblos" by agency Sra Rushmore for Aquarius or "Coca-Cola download concert" by Ogilvy & Mather for Coca-Cola. It's interesting to note that despite being very different campaigns, they all have one thing in common: a marketing strategy based on online consumer participation and social media networks. Consumer profiles are changing, they're more demanding, desire new experiences, new emotions and implication in transactions. Without a doubt it's the marketing that taps into these desires that sells. The Gran Premio del Sol 2013 winner "Inmortal fans", encouraged Sport Club Recife fans to sign up for a organ donor card with which their families would be informed of the donor's wishes. The number of organ donors that signed up was astounding and the number of organ donations rose in Brazil 54%.
Campaigns that encourage audience participation and that appeal to consumers' sentiments in order to gain more reach are clearly on the rise, and recent work Polar Star Films stands testimony to this. In the upcoming campaign for agency RdC Comunicació for Gaes for example, we're shooting real stories with people suffering from hearing problems. Likewise in DDB's MediaMarkt multichannel campaign "El Cliente de Oro", the protagonist is none other than one of the superstore's customers. We're certain this tendency can only rise.
Media Markt's "Cliente de oro" live on national television
20/05/14
Once again Media Markt chose Canal 5's top-rating television show El Hormiguero for the live broadcast of its golden 2 minutes + 15seconds. This year's winner and "Cliente de oro", Chus Aylon from Zaragoza, won 2 minutes + 15 seconds to grab as many products as possible from the chain's Castellana store in Madrid. Chus managed to amass more than 46,000€ worth of products in the time, including mobile telephones, laptops, televisions, reflex cameras and robot vacuum cleaners, and also broke the Spanish record for the prize so far. Polar Star Films was on location to film the rehearsals and event itself for Media Markt's "making of" which included aerial video shot with the latest drone & GoPro camera technology.
Polar Star Films was also on standby the day of the draw to interview the lucky winner for a viral video for the chain's social media channels. Chus, a bubbly "maña" from Zaragoza, proved to be a great showperson, even breaking out into a "jota" national dance at one point. Congratulations Chus, it was a pleasure working with you!
Watch the "Cliente de oro" winner's interview:
Watch the winning 2 minutes + 15 seconds & making of: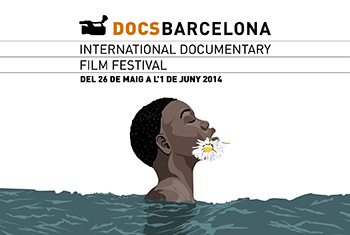 PSF's documentary "Parrot at the Milkbar" in competition at DocsBarcelona
13/05/14
The 17th DocsBarcelona festival kicks off on May 28th. This year, both the festival and the Pitching Forum focus on individual activism, both social and political, showing films that reveal a world that will not sit down and keep quiet, but a world in transformation. Amongst the world & national premieres showing are "Five Days to Dance" (Rafa Molés, Pepe Andreu) and "Demonstration" (Victor Kossakovsky & 32 students) as well as Polar Star Films' "Parrot at the Milkbar", a documentary film set in Barcelona's Raval quarter, perhaps the neighbourhood to have suffered the most extensive and radical change in recent years.
"Parrot at the Milkbar", by German director Ines Thomsen and showing in the Official Section on May 31st and June 1st, tells the story of four hairdressers in the Raval, all with customers from the same neighbourhood but of very different nationalities. Each hairdressers is a world apart, almost impenetrable to outsiders. A documentary that submerges itself in the daily life of people who left their home to find a better one, while the Spaniards are about to leave their own country themselves.
InterDocsBarcelona, a special session on interactive documentary held for the first time last year, is to be repeated this year with conferences and presentation to discuss new, narrative forms of interactive documentary. DocsBarcelona has two new sections this year: "DOC-U" focussed on university talent and audiovisual production, and "Sense Ficció" to celebrate 5 years of TV3's commission slot Sense Ficció which recently screened Polar Star Films' "Google and the World Brain".
In the non-competition section, Special sessions at DocsBarcelona 2014, "La tragedia electrónica" is showing. This Catalan production for ARTE about the growing residue problem of electronic devices is directed by Cossima Dannoritzer, with whom Polar Star Films is currently developing a new project.
Consult the full DocsBarcelona programme here.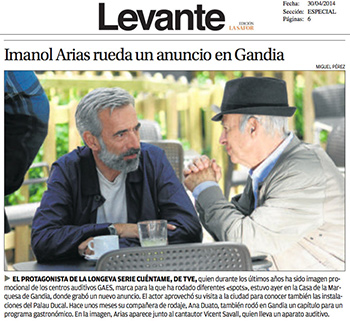 New advertising campaign for Gaes goes into production
28/04/14
Production began last week on a new advertising campaign for Gaes, the leading multinational for hearing aids. We're not only responsible for producing the television adverts but also implementing the change in campaign from its last successful slogan driven campaign: "Gaes. ¿Te lo repito?"
The new Gaes campaign brings with it a radical conceptual change, however the adverts continue to feature the famous actor Imanol Arias, recent protagonist of the biopic Vecente Ferrer and soon to immortalise Anacleto secret agent on the big screen. His international recognition and awards include the Concha de Plata at San Sebastian Film Festival, five Fotogramas de Plata, nine TP's de Oro and two New York ACE awards.
The first advert is currently shooting on location in Gandia, Spain, and as well as Imanol Arias it includes the participation of real people with revealing personal stories connected to hearing. Gaes is one of a number of brands taking up the trend of featuring real testimony and public opinion in their advertising campaigns. How is this campaign different? The testimonials in this campaign truly are real, and not prompted, and our protagonists are ordinary and not famous people. You could say that the campaign is halfway between documentary and advertising.
We're working closely with advertising agency RdC comunicació and commercial director Iago Blasi to realise the campaign. We're really happy to be involved in this campaign with Imanol Arias and that Gaes continues to trust in the professionalism and criteria of Polar Star Films.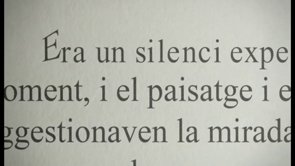 Online marketing and books, a wealth of possibilities
22/04/14
In Catalonia and Spain, April 23, el dia de Sant Jordi, is the most important day of the year for book sellers when up to two thirds of the year's sales are made. In the weeks previous, booksellers, authors and publishers have been hard at work in order for their marketing campaigns to reach the greatest number of readers possible. Some of the latest online marketing techniques that stand out from within the wide range available are: dedicated microsites, apps for book titles and booktrailers, some of which are veritable works of art.
Amongst this year's bestseller favourites are two small publishers that have only recently come on the scene. Sembra Llibres and L'altra Editorial, both acutely aware of the importance of their online profile have produced booktrailers for their most recent launches including La nostra vida vertical (Yannick Garcia, Premi Documenta 2013). These audiovisual works go beyond the classic television advert, giving us a taste of the atmosphere the book creates. And it's thanks to this visual attraction that they offer the chance to hook the more occasional reader.
Likewise, interaction between author and reader is not a new phenomenon. Publishers work hard to gain and maintain fans' loyalty online and through social networks, offering ingenuity and quality content to do so. Here at Polar Star Films we produced several marketing videos for the author Paulo Coelho about upcoming book releases. The videos, in which he responded to questions recorded online by his fans, played a key part in generating interest during the publisher's online marketing campaign. Similarly, big publishers such as Harper Collins and Random House amongst others, are backing video marketing and social networking with numerous Youtube channels, Twitter and Tumblr accounts. Checking out Haperteen's Youtube channel it seems that it's the teenage market where the battle is really going on.
Whether you celebrate this Sant Jordi (Saint George) Day with a conventional paperback or digital e-book, we wish you happy reading!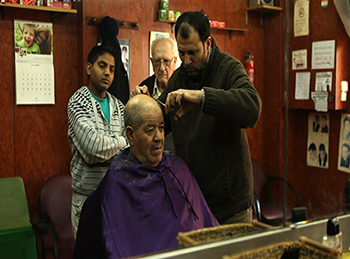 "Parrot at the Milkbar", PSF's latest documentary, World Premiere in Madrid!
07/04/14
We're delighted to announce that our latest documentary "Parrot at the Milkbar" will celebrate it's World Premiere at the upcoming edition of Documenta Madrid Film Festival. The film will be screened twice in the Panorama section of the festival (see below) with a Q & A session with the director to be held after the second screening. Polar Star Film's previous documentaries to have screened at Documenta Madrid include "Google and the World Brai and "Mañana al Mar". This is the festival's 14th edition and will be held at Madrid Matadero's Cineteca.
DocsBarcelona film festival has also selected "Parrot at the Milkbar", for it's upcoming edition at the end of May, so we will not have to wait too long for the Catalan Premiere of the film. This will be the festival's 17th edition and will be held at various venues in central Barcelona.
"Parrot at the Milkbar", a feature-length, observational documentary directed by Ines Thomsen, tells the story of four hairdressers and their customers in the Raval quarter in Barcelona's Old Town. Four small, strange time and space capsules, of people who left their home to find a better one, while the Spaniards are about to leave their own country themselves. The documentary is Ines Thomsen's second documentary to be produced by Polar Star Films. It is an international coproduction with Filmtank, Germany.
Screening dates:
1st May 2014 Documenta Madrid Film Festival
3rd May 2014 Documenta Madrid Film Festival
27th May – 1st June DocsBarcelona film festival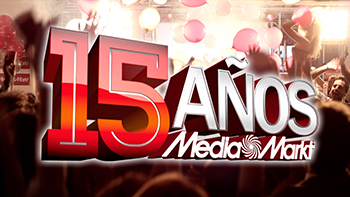 Polar Star Films celebrates Media Markt's 15th anniversary
01/04/14
The German company Media Markt has been operating in Spain for 15 years.
For almost 10 years Polar Star Films has worked on their advertising providing the production and postproduction for their commercials and corporate videos. They are celebrating by offering discounts and special promotions, including products at 15 euros.
Our audiovisual post-production has been a key factor in Media Markt's best known campaigns such as Yo no soy tonto, (I'm not stupid) and spots such as "the nuns", "the posh girl" and "the size". Later there were one-off campaigns such as "Teles" de Media Markt with VFX (video effects) and 3D animation in which they offered a discount worth twice the weight of your old TV, Hinchas, (fans) where they promised to pay a quarter of the cost of a TV if the Spanish national football team reached the World Cup quarter finals, and "El Golpe" (the coup), a production set 30 years ago with more than 200 film extras. And, of course, the now legendary and much imitated Día sin IVA (no VAT day).
Polar Star Films produces innovative and creative advertising for many companies, which is why we choose to work with strong brands such as Media Markt.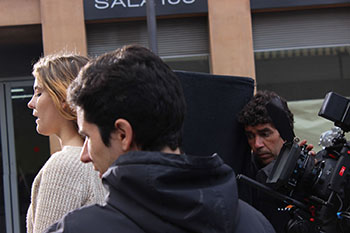 Polar Star involved in the production of a new short film: Gynoid
24/03/14
Our audiovisual producer is working on the production of new short film. It's a science-fiction project called Gynoid which will be shot in the coming weeks in Barcelona. It depicts a future in which the gynoids are programmed to satisfy consumers tastes, without exception. One of them cannot bear the pressure and the violence that they are subjected to and escapes. While they flee without understanding why they have these feelings, the corporation that created them pursues them mercilessly.
Polar Star Films also works as a location scout for external productions and this time they're not going to be small ones. Among others, are some big warehouses in Barcelona at the port of Arenys de Mar.
We are not only a documentary and advertising producer but we also have a short fiction film section. Among the films that we have produced are La voz de Hans, Lazarus Taxon and Chat Noir. Some of these works have been selected and awarded prizes at Sitges, Hot Docs Canada, San Francisco, FIC-CAT, World International Short-Film Festival, Atlanta Underground Film Festival, Fic Mostoles, and Rhode Island International Horror Film Festival.
You can follow the production of this short science fiction film at Polar Star Films Twitter and our producer's Facebook page.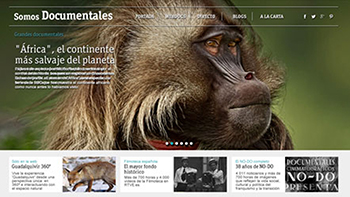 Interactive is the new documentary platform
18/03/14
These days every documentary has an interactive element, whether it's a website, links to social networks or online games and exclusive offers. One of the events of the year has been RTVE's launch of Somos Documentales (we are documentaries), although they are not the only ones because there is a growing number of these platforms, from newspapers to TV channels and production companies.
At Polar Star Films, aware of the rise of these formats, in 2013 we created an interactive related to our documentary Google and the World Brain Meet the World Brain. Users, who could access the platform via Facebook, interact with a humanoid robot that asks them apparently inoffensive questions related to its desire to create "a planetary memory for humanity." However, as the game progresses this altruistic motivation suddenly makes an about face. Meet the World Brain becomes a tool through which we become more aware of the limits of online privacy.
This new format, which adds value to the documentary and has the virtue of existing independently of the genre, allows users to interact with the film's content at different levels, something that is vital for the genre's potential and evolution. More and more people in Spain see this as an innovative and promising way of narrating a documentary. As a result, in 2011 RTVE created LAB, a platform with an integrated multidisciplinary team with the aim of researching new narratives and languages for storytelling. RTVE has backed Somos Documentales, a new online space that will become the biggest shop window for Spanish documentaries in the world with more than 5,000 titles (such as the tapes of No-Do, newsreels and documentaries from the Franco era) and will interweave this content with that of the LAB. On the international stage, leading exponents of interactives are the National Film Board of Canada, which has spent 70 years researching how produce digital cinema, and newspapers such as The Guardian and the New York Times Op-Docs.
If you'd like to know more about this new format, we invite you to visit any of the websites that we recommend and, above all, to experience it at first hand by playing with our application Meet the World Brain.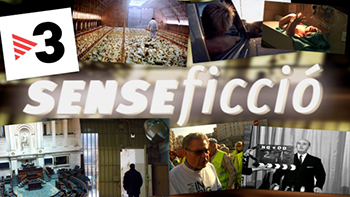 The program Sense Ficció celebrates its 5th anniversary
17/02/14
This year Sense Ficció celebrates its 5th anniversary and to mark the occasion we have opened a vote for documentaries in which viewers select five of the 20 selected they'd like to watch again. So if you want to enjoy the best documentaries, including our award-winning "Google and the World Brain", you should join in.
Sense Ficció, directed and presented by Joan Salvat, who also directed "30 minuts" for 24 years, aims to broadcast the best documentaries from around the world, as well as his own documentaries that have forged TV3's style. The program is a window onto the best documentary productions which provide food for thought about the biggest challenges that contemporary society faces. It's the first time public television has created such a platform on its main channel.
Among the productions screened was the documentary "Google and the World Brain" produced by Polar Star Films and directed by Ben Lewis which was broadcast on June 18 and was watched by 339,000 viewers, 10,4% of the total.
The program has also broadcast documentaries which, because of their artistic value or the revelations they have contained, have been met with international controversy and admiration, such as "Bicicleta, cullera, poma", which won the 2011 Goya award for best documentary and "Mon petit", which in the same year win the Gaudí award for best documentary film.
One of the peculiarities of Sense Ficció is that it also screens interviews in which Joan Salvat discusses the documentary that is about to be screened with people involved in making it or with people who have special knowledge of the subject. When "Google and the World Brain" was broadcast he interviewed Carles Brugueras, the documentary's executive producer.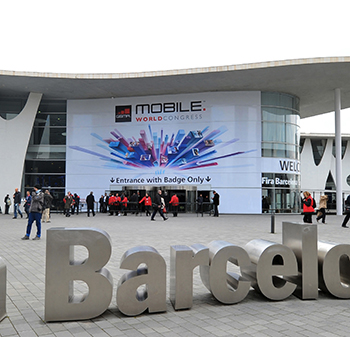 Mobile Video: The rising star at Barcelona's Mobile World Congress
13/02/14
Mobile World Congress takes place this month in Barcelona, an annual congress dedicated to mobile communications. During the event thousands of engineers, scientists and investors from around the globe will flock to the Fira de Barcelona (Barcelona's exhibition halls) to immerse themselves in new technology and mobile marketing.
Why is it such an important date for all advertising professionals and fans? Because app developers, mobile manufacturers and content distributors will all be vying for space for their ideas and services within this massive melting pot of innovation. If only 3 years ago we believed mobile to be the marketing platform of the future, and it's already become the marketing platform of the present, it's easy to see fast things move in the world of new technology.
Businesses are investing more and more in mobile advertising and less in traditional formats. Who doesn't have a smartphone these days? It's an internet connection in your pocket that never switches off. Traditional channels have always been a competitive market but now TV audiences flip channel during the ads and we've developed "banner blindness" while surfing the internet. We're so used to their presence we've learnt how to ignore them. What's the most useful advertising format then? Video marketing without a doubt. All campaigns should be incorporating video, whether it's corporate video for business, motion graphics or virals. Your video going viral is of course the golden egg that every video marketer aims for, trying to cash in on users' sensitivity and desire that translates into thousands or millions of views across social media sharing.
Visit the Mobile World Congress from the 24th to the 27th of February and find out for yourself. More than 1,000 businesses are signed up, there are numerous workshops & talks, and it's rumouredthat Mark Zuckerberg will give the closing speech.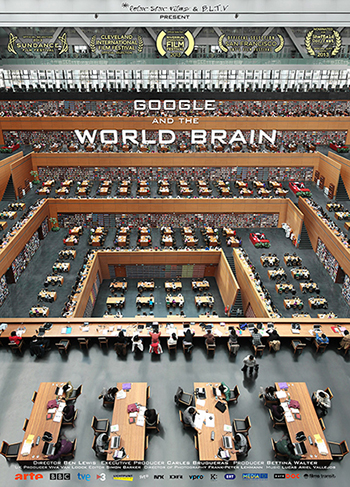 "Google and the World Brain" screening at all points of the globe
11/02/14
"Google and the World Brain" is showing three times this month at international festivals. Two screenings are at Yebisu International Festival for Art & Alternative Visions in Tokyo, a festival showcasing exhibitions, projections and live performance that combine art and visual language. Conceived under the umbrella theme "True Colours" this edition aims to capture the diversity of modern society whilst examining losses and gains in the process of globalisation. "Google and the World Brain" screens this Wednesday 12th and Saturday 22nd of February.
If you can't get to Tokyo but are in Germany, you can see the documentary during the "Karlsruhe Dialogues" symposium organised by Karlsruhe Institute of Technology in collaboration with Arte TV, where this year's theme is: Trade with goods, data and humans. The free screening forms part of their Arte film night, showing at midnight on Saturday 15th of February, in a 200 seat theatre, so if you're close by make your way there!
Coming up in May in Canada, Knowledge channel will screen "Google and the World Brain" on Tuesday 13th at 21:00h. Knowledge Network were one of the first broadcasters to back the project during development. The documentary had it's USA television premiere on Al-Jazeera America last year and now it's Canada's turn.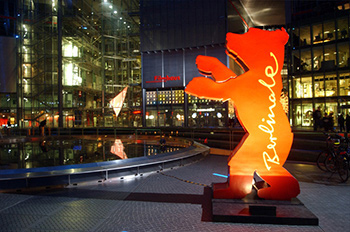 The first of four EFM Industry Debates at this year's Berlinale discusses the art of modern documentary
04/02/14
The first of four EFM Industry Debates at this year's Berlinale discusses the art of modern documentary
In the 2014 edition of the European Film Market, the Industry Debates will again discuss topical issues related to the film and media industry. These issues have to do with how documentaries are changing artistically; with successful producers, the industry's unsung heroes, and their insights into their experiences; and with new sales opportunities for European cinema, where the market for films is growing.
Friday's session: "The Act (and Art) of the Doc", presented in cooperation with "The Hollywood Reporter", focuses on the crossroads facing documentary and non-fiction filmmaking. While television broadcasters are scaling back their doc budgets, cinematic documentaries continue to enjoy critical and commercial success. And while the audience for excellent non-fiction is out there, bridging the financial gap between idea and completed film has never been more difficult. Artistically, however, documentaries have arguably never been stronger. New documentaries – from the Oscar-nominated The Act of Killing to the ambitious 3-D project Cathedrals of Culture - are pushing the artistic limits of the non-fiction form, escaping the documentary niche and appealing to a wider audience.
The Berlin International Film Festival has long been committed to documentaries in their diverse forms. You can find the programmes of the Berlinale's different sections and initiatives in the programme, as well in the European Film Market (EFM), Berlinale Co-Production Market, and Berlinale Talents.
In 2014, a total of 56 documentaries will be shown in a variety of forms. In addition, discussion of a wide range of different aspects related to documentaries will be intensified – at workshops, panels and presentations.
International Data Protection Day today, 28th of January!
28/01/14
International Data Protection Day was launched by the Council of Europe in 2006 in order to raise awareness amongst citizens about their rights and responsibilities regarding data protection. For this year's 8th edition of Data Protection Day, the Data Protection Unit is co-organising a side event: "After Snowden: using law and technology to counter snooping" to coincide on 28 January. The "Handbook on European data protection law" prepared in cooperation with the European Union Agency for Fundamental Rights (FRA) and the European Court of Human Rights will also be launched on this day on the Council of Europe's websites.
"Google and the World Brain" Polar Star Films' latest documentary directly addresses issues of data mining and unauthorized data collection by large internet companies. Key thinkers and authors such as Jaron Lanier and Evgeny Morozov expose the dilemma we all face when going online. "Whether large internet companies are making our lives easier or gaining power over us presents a false binary" says Evgeny Morozov when considering the Google Glass Project in the film.
You can buy a DVD of "Google and the World Brain" from Polar Star Films shop or watch it online in Spain at Filmin, 400Films, Filmotech or Yomvi, and find out more about this story and the dangers of access to information on the Internet. As the director Ben Lewis said about free stuff on the net: "When something is free, it usually means that somebody is not getting paid for their work or somebody is selling your user data." Should we be worried?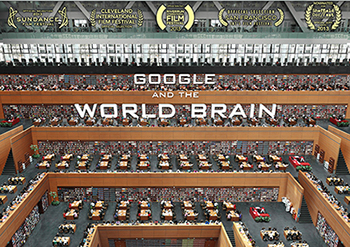 Google and the World Brain selected for FIFA
17/01/14
The Selection Committee has chosen Google and the World Brain to be screened in the HORIZONS section of the 32nd International Festival of Films on Art (FIFA), to be held in Montreal, March 20-30th. We are very exited to see who will win the best film award! May the best film win!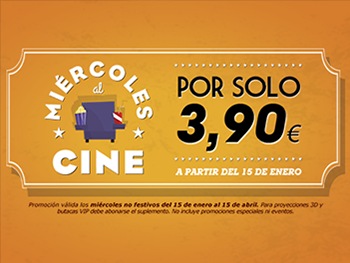 Going to the cinema is now cheaper than ever!
17/01/14
After the success of "Fiesta del Cine", "Miércoles al Cine" offers cheap screenings every Wednesday. In a move to increase audiences various cinemas throughout Spain have agreed on a low-price ticket of 3,90€. 306 cinemas have already signed up, so it's likely you've got one nearby. But you'll have to hurry as it's only until the 15th of April, so make sure you make the most of it!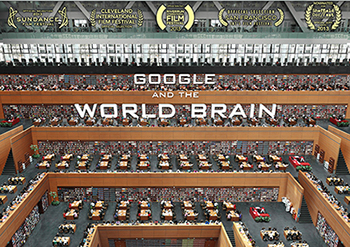 Google and the World Brain reaches the small screen
17/01/14
Google and the World Brain reaches the small screen in Belgium on Sunday 26th January. Showing in the renowned Lichtpunt documentary slot it screens on Een at 10:30h and Canvas at 23:20h
We'd also like to remind you that the documentary's last Fuzhong 15 screening in Taipei is on Saturday 25th January!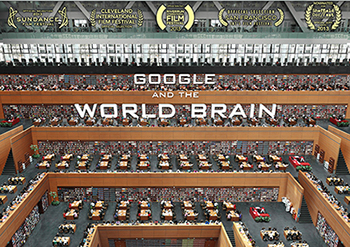 Christmas and New Year screenings for "Google and the World Brain"
11/12/13
Following its success at Documenta Madrid, Google and the World Brain returns to the Cineteca Matadero for a Christmas run of 5 screenings. In the New Year we focus on Taiwan and Japan with screenings at Truth in Media in January and Yebisu International Festival for Art & Alternative Visions in February.
For more information about the film and screening dates visit: www.worldbrainthefilm.com
For Cineteca Matadero screenings visit: www.cinetecamadrid.com/pelicula/googleyelcerebromundial/642/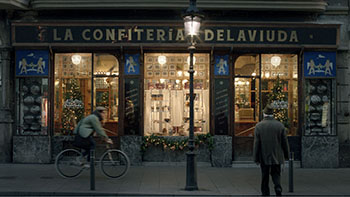 "La Confiteria Delaviuda" Christmas advertising campaign kicks off this bank holiday weekend
05/12/13
The Christmas campaign will truly begin this bank holiday weekend when La Confiteria Delviuda's TV commercial hits our screens. Polar Star Films teamed up with Moontain advertising agency to create the script and director Miquel Abril shot in several Barcelona locations including a well known bar in the city's theatre district. The cast even included a cat this time!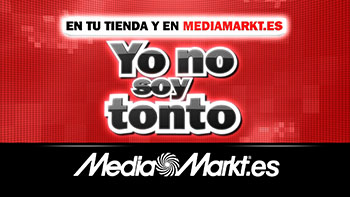 Polar Star Films creates new motion graphic design for the new Media Markt campaign
05/12/13
Polar Star Films has been central yet again in the creation of a new Media Markt campaign, devising and creating all the motion graphics for the current look. Polar Star Films' head of post production Alexis Gallardó and executive producer Carles Brugueras worked closely with ad agency DDB to design the new set of backgrounds and motion graphics that will mark this campaign over the coming months.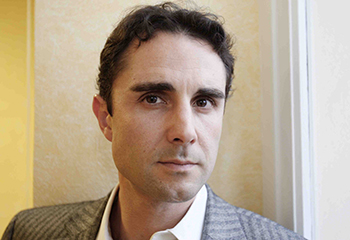 "Falciani's List" selected to pitch at exclusive Eurovision Documentary Group meeting
14/11/13
PSF's documentary in development Falciani's List will pitch at the exclusive Eurovision Documentary Group meeting organized by Eurovision / EBU during IDFA 2013, Amsterdam. This feature documentary about whistleblower Hervé Falciani is director Ben Lewis' second project with Polar Star Films following the highly successful Google and the World Brain.
For more information about EBU visit: http://www3.ebu.ch/cms/en/home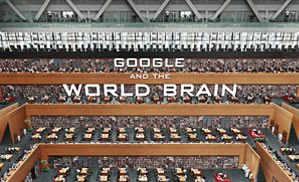 "Google and the World Brain" television screenings in Scandinavia!
14/11/13
Scandinavian television channels NRK (Norway) and YLE (Finland) will both screen Google and the World Brain next week. NRK was one of the first broadcasters to get behind the project when still in it's early stages, and YLE gave us the green light once we finished the project.
NRK (Norway) Screening postponed, stay tuned for details!
http://www.nrk.no/
YLE (Finland) Wednesday 20th at 22:10h
http://yle.fi/ohjelmat/2418907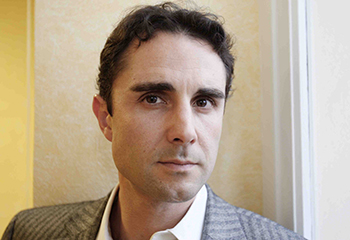 "Falciani's List" selected to pitch at exclusive Eurovision Documentary Group meeting
14/11/13
PSF's documentary in development Falciani's List will pitch at the exclusive Eurovision Documentary Group meeting organized by Eurovision / EBU during IDFA 2013, Amsterdam. This feature documentary about whistleblower Hervé Falciani is director Ben Lewis' second project with Polar Star Films following the highly successful Google and the World Brain.
For more information about EBU visit: http://www3.ebu.ch/cms/en/home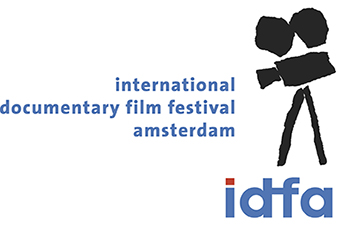 PSF documentary team at IDFA Forum 2013
14/11/13
The biggest date of the year for European documentary kicks off next week in Amsterdam. IDFA's international co-finance and production market, the IDFA Forum, will take place from 25 to 27 November in the Compagnietheater in Amsterdam. During this market, filmmakers and producers present their documentary projects to commissioning editors from international television stations and other providers of finance, with the aim of completing the finance for their documentary projects. Polar Star Films will be in attendance.
For more information visit: http://www.idfa.nl/industry/forum.aspx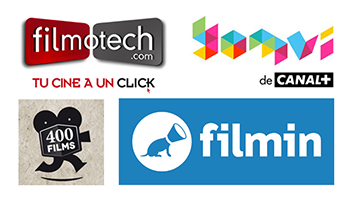 "Google and the World Brain" video on demand launched in Spain
06/11/13
Four online "video on demand" platforms launch Google and the World Brain this Friday 8th of November in Spain. Watch this award winning and Sundance nominated documentary online at Filmin, Yomvi, Filmotech and 400 Films. They all launch the film on Friday 8th except 400 films which does so on Thursday 14th.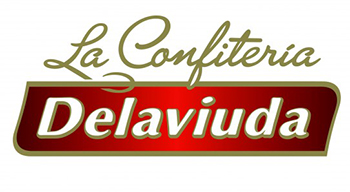 "La Confitería Delaviuda" Christmas advertising campaign goes into production
06/11/13
We're shooting La Confitería Delaviuda's Christmas advertising campaign on location in Barcelona this week. This will be the 3rd year that Polar Star Films and director Miquel Abril team up to produce Delaviuda's seasonal campaign which promises heart-warming nostalgia, luscious images and a few surprises! What's more, the office is full of chocolates!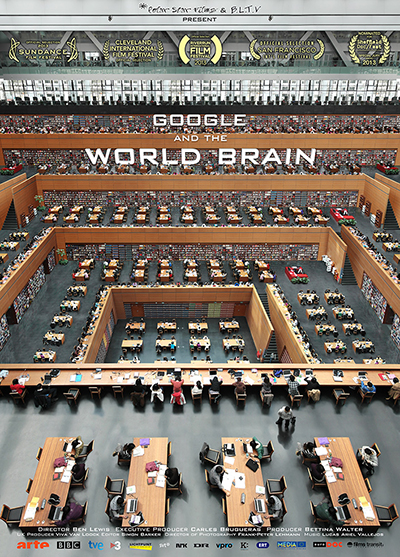 Spanish nationwide premiere of "Google and the World Brain" on TVE (La2) this Friday
18/10/13
Friday 25th of October at 00:00h, El documental de La2, Spain
PRESS RELEASE - CURRENT AFFAIRS - CULTURE - TECHNOLOGY - TELEVISION
GOOGLE AND THE WORLD BRAIN, a documentary about Google Books and the future of the Internet reaches our screens at a timely moment, just as the latest revelations of cyber espionage and "big brother" control on the Internet reveal how big companies such as Google are involved.
The documentary, a Spain-UK co-production, premiered at Sundance, in competition at Sheffield, New York and in more than 60 international festivals thus far, will have it's Spanish television premiere Friday 25th of October at 00:00h on the programme El documental de La2
For more information visit: http://www.googleandtheworldbrain.com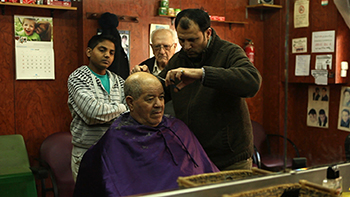 "Parrot at the Milk Bar" exclusive screening in Barcelona!
11/10/13
We are delighted to invite you to an exclusive screening of Parrot at the Milk Bar (Hairdresser's of the Raval), a documentary by Ines Thomsen that offers a fresh and original portrait of the Raval, Barcelona's most colourful melting pot. A film about leaving and arriving, seen through the original viewpoint of the quarter's numerous and eclectic hairdressers that offer refuge and nostalgia to their fellow countrymen.
Luci (Spain), Zulfiqar (Pakistan), Mostafa (Morroco), and Emi (Bolivia) host us each in their hairdressers, we meet their colourful clients, hear poignant stories from the motherland and discover why Raval has become or will cease to be their home.
Date: Tuesday, 22 Octubre
Time: 20.00h
Place: Cinema Maldà, C/ Pi 5, Barcelona
Please join us for a celebratory drink after the screening.
Limited capacity, please confirm assistance: info@polarstarfilms.com

"Google and the World Brain" as Video On Demand
11/10/13
Google and the World Brain available online as Video on Demand in Spain from October 24th! Stay tuned to our Facebook and website for more info.
http://www.worldbrainthefilm.com/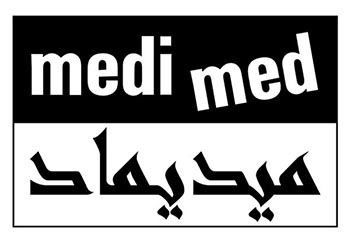 Medimed 2013
11/10/13
Come and meet us at the 14 th Medimed Documentary Market, 11-13 th October in Sitges. We'll be there with Falciani's List and FREIGHTENED amogst other projects.
http://www.medimed.org/home.html
A new cinema-bistro opens in Barcelona
11/10/13
Zumzeig, a new 70 seat cinema-bistro, opens in Barcelona. Conceived as a cultural & gastronomical meeting point, screening independent film, documentary, medium length and video art.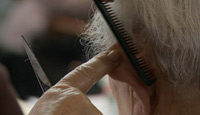 "Parrot at the Milk Bar" has finished post-production!
27/09/13
Our Spanish-German co-production Parrot in the Milk Bar has now finished post-production and will be in distribution soon. This feature length documentary takes us into the heart of Raval, Barcelona, with internationally flavoured fly-on-the-wall observation. The film follows director Ines Thomsen's successful first film with Polar Star Films and TVC: Demà al Mar.
http://www.polarstarfilms.com/en/d_hairdressers-of-the-raval.php
60 different festivals and channels programme "Google and the World Brain"!
27/09/13
42 festivals and 18 television channels worldwide have programmed Google and the World Brain! Upcoming screenings include: YLE Finland, DR Denmark, Lichtpunkt, NRK Norway, Knowledge Canada, Once TV Mexico, EBS Korea, and NHK Japan.
Visit http://www.googleandtheworldbrain.com/#screenings for more details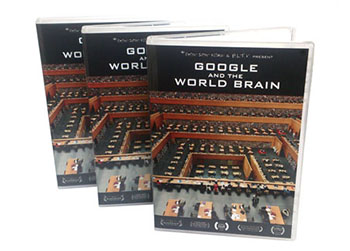 "Google and the World Brain" DVD now on sale!
17/09/13
Get your own copy of Google and the World Brain from: www.shop.polarstarfilms.com
Name: Google and the World Brain
Director: Ben Lewis
Duration: 89 minutes
Language: 80% English and 20% others
Subtitles: English, Spanish, Catalan
Description: DVD documentary "Google and the World Brain"
Synopsis: A film about the dreams, dilemmas and dangers of the Internet.
Visit www.shop.polarstarfilms.com to buy documentaries Google and the World Brain, The Club, Fragile Ground and other short films.

4598 challengers to "Meet the World Brain" so far!
03/09/13
4598 players and 3541 finishers thus far have challenged the World Brain in our online game launched to support the film! Who is going to be player number 5000?
Play now on Facebook: http://apps.facebook.com/theworldbrain/
New York Film Festival screening for "Google and the World Brain"
03/09/13
Screening in the Applied Science section at this year's 51st New York Film Festival
Sunday September 29, 9:30pm, Francesca Beale Theater; Wednesday October 2, 3:30pm, Francesca Beale Theater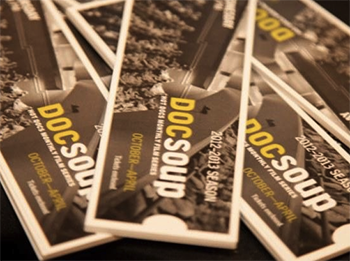 Toronto Doc Soup Screening for "Google and the World Brain"
03/09/13
From Hot Docs to Doc Soup!! Google and the World Brain will be screening in Toronto on 2nd & 3rd of October:
Ticket information: http://www.hotdocs.ca/docsoup/doc_soup_toronto/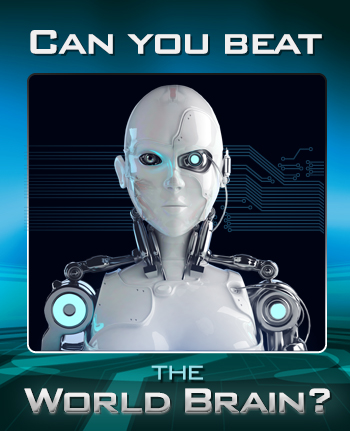 New online game launched to promote "Google and the World Brain"
Meet the World Brain. New online game experience launches to to coincide with this weekend's US-premier of the film Google and the World Brain on Al-Jazeera America
A new online game, Meet the World Brain – created to support the launch of our Sundance-nominated documentary about the future of knowledge, raises questions about the dilemmas and dangers of sharing information on the internet at a time when the public is questioning online privacy and corporate behaviour more and more. The launch is timed to coincide with this weekend's US-premier of the film on Al-Jazeera America.
The Facebook game, Meet the World Brain, represents a radical new way of marketing a serious documentary; bringing gaming, Facebook marketing and filmmaking together to strengthen the call to action.
Facebook game link: http://apps.facebook.com/theworldbrain/
US television premiere for Google and the World Brain!
26/08/13
Newly launched Al Jazeera America will premiere Google and the World Brain Sept 1st at 9pm ET/ 6pm PT. Here's where you can find Al Jazeera America in the states:

COMCAST - Channel 107
DIRECT TV - Channel 358
DISH TV - Channel 215
VERIZON - Channel 114

Visit www.googleandtheworldbrain.com for more television and festival screening dates.
Summer break!
29/07/13
PSF will be closed for summer holidays from the 5th to the 25th of August. The team wish you all a great break, see you back on top form at the end of August!
17% audience share for GOOGLE AND THE WORLD BRAIN on DR1.
29/07/13
Around 281.000 people watched Lewis' film in DR1's summer documentary strand SOMMER HORISONT, July 1st at 10pm.
New screening on TV3 for Google and the World Brain.
26/07/13
New screening announced for Google and the World Brain on TV3: Sense Ficció Tuesday 13th of August at 23:45h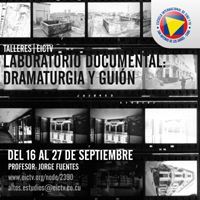 Maadyr selected for development at EICTV, Cuba
26/07/13
Director Júlia Aragay one of 14 selected to develop her documentary "Maadyr" at EICTV in Cuba in September within Documentary Lab: Dramatugy and screenplay.
1.3 million views on Youtube alone for "Mein Herz" video!
26/07/13
More than 1.3 million views on just one Youtube channel alone for Beatrice Egli's "Mein Herz" video clip. Production service on the Costa Brava and Barcelona by Polar Star Films.
Frontline Club screening and Q&A for Google and the World Brain
26/07/13
Director Ben Lewis will be doing a Q&A at the screening of Google and the World Brain at the Frontline Club on 27 August.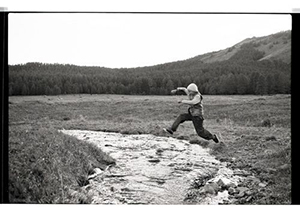 First images from "Maadyr" (Heroes) a documentary by Júlia Aragay
26/07/13
First images from Júlia Aragay's documentary "Maadyr": an intimate portrait of a nomadic family whose devotion to "khömei" harmonic chanting leads them to the capital of Tuva. Contrasts, nostalgia & passion lead us through the magic of Siberia.
Busy summer for Google and the World Brain!
26/07/13
9 screenings in August alone for Google and the World Brain! See the website for more details: www.googleandtheworldbrain.com/#screenings
Beatrice Egli's single "Mein Herz" goes gold!
26/07/13
Beatrice Egli's album and single "Mein Herz" goes gold. Polar Star Films hosted Hunger Films on the Costa Brava providing the production service for the video clip for "Mein Herz". @beatriceegli
Google and the World Brain 3rd most watched programme during prime time
11/07/13
Google and the World Brain stood up to some tough competition during it's prime time TV3 screening on Tuesday 18th June. It's 22:05h documentary slot Sense Ficció led the viewing figures briefly before settling into a close third behind Masterchef and Gran Hermano (Big Brother). The number of spectators was 339.000 with a 10,4% share.
Two great reviews of Google and the World Brain by Mònica Planas in ARA and on Catalunya Radio
11/07/13
Mònica Planas reviews Google and the World Brain in La Tribu on Catalunya Radio and in ARA:
"Powerful subject matter, ambitious production and well thought-out arguments successfully generate an interesting story at the same time as creating an uncomfortable atmosphere that grips the viewer."
"Google and the World Brain does not only inform us of the Google Books case, but also alerts us to an egotistical and indiscriminate attitude that seeks to dominate society: the technology dictatorship."
Listen to the review from 4:30 minutes in: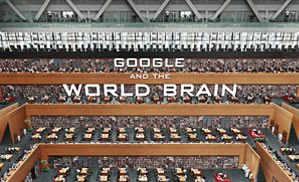 #cervellmundial top TT during TV3 transmission
11/07/13
#cervellmundial 2nd most popular Trending Topic in Catalonia during TV3's screening on Tuesday 18th of June. #cervellmundial (WorldBrain) was TT on Twittter for more than 4h before, during and after the screening, competing with #GHGRANFINAL (BIG BROTHER) for a spot in the the top 3 nationally. Quite an interesting coincidence we think!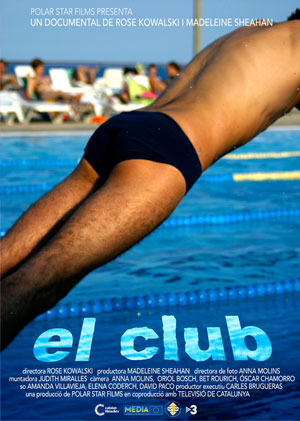 Another centenary showing for The Club on BTV!
11/07/13
BTV will be the second channel to screen our documentary The Club this year to celebrate Club Natació Atlètic-Barceloneta's centenary. BTV will screen the full 67min version of this documentary of a year in the life of this swimming club, along with 3 previously unseen extras on the 22 August 2013.
http://www.elclubdoc.com/eng/home_eng.html
Google and the World Brain on TV3's blog
29/06/13
For thoses of you who missed Google ands the World Brain last Tuesday on TV3's Sense Ficció, it's now online at TV3alacarta
Seven more festivals select Google and the World Brain
29/06/13
Google and the World Brain selected at Galway, Lemesos, Transatlantyk, Real Film, Avvantura, Rio & Cnex. Visit www.googleandtheworldbrain.com for more details.
The Club online at 3alacarta
29/06/13
Watch The Club online at 3alacarta!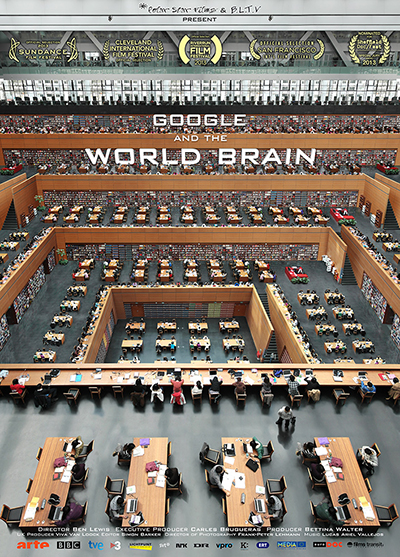 A timely documentary on Google reaches our screens
13/06/13
Tuesday 18th of June at 21:50h Sense Ficció on TV3
PRESS RELEASE - CURRENT AFFAIRS - CULTURE - TECHNOLOGY - TELEVISION
GOOGLE AND THE WORLD BRAIN, a documentary about Google Books and the future of the Internet reaches our screens at a timely moment, just as the latest revelations of cyber espionage and "big brother" control on the Internet reveal how big companies such as Google are involved.
The documentary, a Spain-UK co-production, premiered at Sundance, in competition at Sheffield and in more than 20 international festivals thus far, will have it's Catalan television premiere this Tuesday 18th of June at 21:50h on the programme Sense Ficció on TV3.
Google and the World Brain: Selected for DocsBarcelona!
10/05/13
Google and the World Brain in competition at DocsBarcelona: 31 May 22.00h, Cinemes Renoir Floridablanca - 1 June 17.30h Cinemes Renoir Floridablanca
World Brain: Best Documentary at Rincon International Film Festival!
10/05/13
Google and the World Brain wins Best Documentary at RIFF 2013
Media Markt's Cliente de Oro is back!
10/05/13
Polar Star Films is colaborating once again with Media Markt to turn one special client into gold!!
Google and the World Brain: Selected for Sheffield DOC/FEST
10/05/13
Google and the World Brain in Special Jury Competition, EUNIC European Highlights, at Sheffield 2013: 15 Jun 12.30 - Showroom 1 13 Jun 14.30 - Howard Street Screen. http://sheffdocfest.com/films/show/5325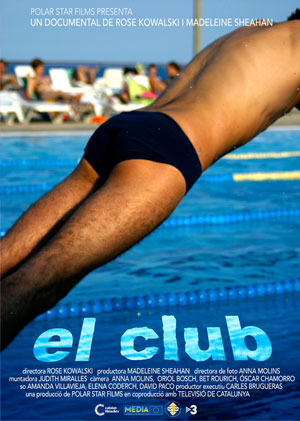 El Club showing on Canal 33 to celebrate CNAB's 100th birthday
08/04/13
In honor of Club Natació Atlètic-Barceloneta's centenary this year, "EL CLUB", our documentary of a year in the life of this swimming club, will screen on Canal 33 Thursday 30 de May at 22.35. http://www.elclubdoc.com
08/04/13
See you at MipTV!
08/04/13
Polar Star Films wil be at Miptv from 8-10 April http://www.miptv.com
Any Dutch not seen Google and the World Brain yet?
08/04/13
Well, the film will be available online for Dutch viewers until 29 February 2016, 23:58 at http://www.uitzendinggemist.nl/afleveringen/1331767
Google and the World Brain screening at RIFF Puerto Rico!
20/03/13
Google and the World Brain screening at Rincon International Film Festival (Puerto Rico) 8-15 April 2013. http://www.rinconfilm.com
Google and the World Brain: New festivals and TV screenings announced!
01/03/13
See our Google and the World Brain website for updated festivals and TV transmission dates including Arte, ZDF, SVT & VPRO http://www.worldbrainthefilm.com/#screenings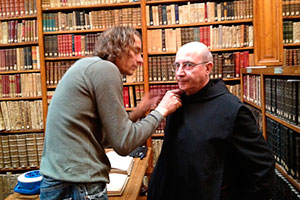 Google and the World Brain television premiere BBC4 18th Feb 22:00h
15/02/13
After its successful premiere at Sundance and numerous great reviews, Google and the World Brain will have its world television premiere on BBC4, Storyville on Monday 18th of February 22:00h. http://www.bbc.co.uk/programmes/b01qxmqc
Arte, TVE, TVC, DR, VPRO, Lichtpunt, ERT, NRK & SVT are scheduling the film for the coming months, we'll let you know!!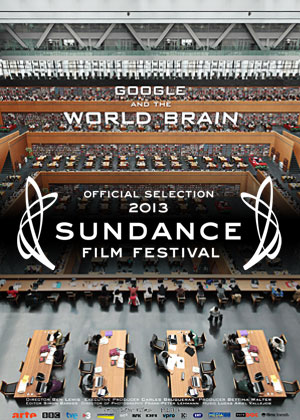 Google and the World Brain World Premiere in competition at Sundance 2013
29/11/12
Yesterday America's renowned independent film festival, Sundance announced that Google and the World Brain competes in the Official Selection for its coming edition in January 2013!
The documentary is a daring and critical analysis of the story of Google's most ambitious project, Google Books, in which Google set out to scan all books ever written by mankind. Their intention was to unite all the world's knowledge with the final goal of creating a form of higher intelligence. Google and the World Brain is a film about the dreams, the dilemmas and the dangers of the Internet. It was shot in world's most amazing libraries in the United States, Europe, Asia and Latin America.
With Google and the World Brain Ben Lewis unites theorists, critics and the key players in the realm of the Internet and new technologies. including Jaron Lanier, Evgeny Morozov, Clay Shirky and Laurence Lessig, opening a polemical dialogue about the future of knowledge and information-sharing on the Internet. Lewis also interviewed some of today's most outstanding librarians - Robert Darnton (Harvard) and Jean-Noel Jeanneney (National Library of France) and he reveals the extraordinary stories of the writers that struggled against Google's book scanning.
Official web of the film www.worldbrainthefilm.com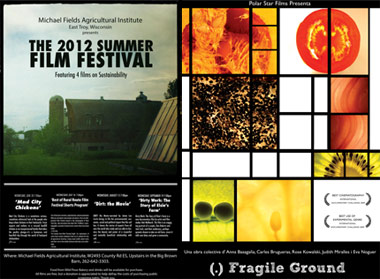 FRAGILE GROUND screening at The 2012 Summer Film Festival, Wisconsin
06/07/12
Fragile Ground will be shown in "The 2012 Summer Film Festival", organized by the Michael Fields Agricultural Institute in Wisconsin.
Screening: shorts session, Wednesday July 18th at 7pm.
This experimental documentary is a visual poem about the biodiversity of seeds and was made in five days as part of The International Doc Challenge. It was awarded Best Photography i Best Experimental Documentary at International Doc Challenge, HotDocs Toronto, 2009.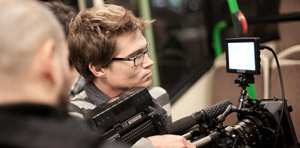 Daniel Torres - new director with Polar Star Films
07/06/12
Polar Star Films is delighted to welcome Daniel Torres into our commercials directors team. Previous commercials include Donuts and Tío Pepe.
It's good to have you here Daniel!
See his work here.

FROM ZERO TO ZARA, a Polar Star Films documentary, has been selected for a content development workshop organised by MEDIA and Sources2
06/06/12
MEDIA Antena Catalunya and MEDIA Antena Andalucía, in collaboration with Souces2 will hold two content assessment workshops run by two content development experts.
PSF with its documentary project FROM ZERO TO ZARA will be attending the workshop held with Sources2 assessor Arash T. Riahi.
Arash T. Riahi is well renowned for his film career as writer, director and editor on various projects including prize winning documentaries.
The workshops take place in June at MEDIA Antena Catalunya's offices in Barcelona.
POLAR STAR FILMS on Vimeo
31/05/12
We've launched a Polar Star Films Vimeo account, with trailers and clips of all our films and other projects in HD. Watch, enjoy and comment on them! We'd love to know your opinion!
Visit and follow us on Vimeo via vimeo.com/polarstarfilms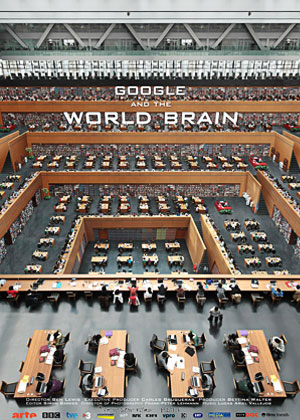 Google and the World Brain, the new project directed by Ben Lewis and produced by Polar Star Films
03/05/12
Google and the World Brain is an ambitious and controversial documentary directed by Ben Lewis produced by PSF and co-produced by ZDF / ARTE, BBC, TVE and TVC among others, and has the support of the MEDIA program in the categories of Development (Slate Funding) and Broadcast TV.
This intense documentary is about the future of knowledge on the Internet and invites us to reflect on whether the Internet offers technological breakthrough that benefits us in our day to day or whether big companies' monopoly on storage and control of knowledge mask unknown dangers that threaten civil liberties and human rights. A current topic of great interest worldwide.
An international project co-produced by several international broadcasters and shot all over the world. The documentary is currently in production, and shooting has already begun in Spain, Mexico, USA and will continue in China, France, Germany, Belgium, Japan and the UK.
Our CEO and Executive Producer, Carles Brugueras, talks about World Brain in an interview produced and published by eMEDIAcat, the electronic journal of Media Antena Catalunya.
Here's the link to the Media Antenna Catalunya website where you can access the electronic edition of the magazine and read the interview with Carles Brugueras.
CARLES BRUGUERAS, CEO and Executive Producer of PSF attended a Rights Clearance course, held in Berlin
03/05/12
Our CEO and Executive Producer, Carles Brugueras attended the course Rights Clearance, organized by the Erich Pommer Institut, held in Berlin 17 - 21 in March. Carles attended this course through a grant managed by Media Antena de Catalunya.
Here's what Carles thought of the course:
"The seminar was very interesting for three reasons: first for the content and experts, which mean that I'm in much better position to be able to risk assess and manage rights in production and also now know what kind of lawyer or professional I would need. Secondly, the course set up quick interviews with experts in order to ask specific questions, and finally networking with other European producers was also very rewarding."
For more information on these courses, visit: http://www.epi-medieninstitut.de/Programm-Europa_en.html
DENIS DELESTRAC, director of THE BASE
10/04/12
Denis Delestrac is a French journalist, writer and award-winning director, currently resides in Barcelona. Among his social-political and cultural documentaries are: "Human Rights", shot in Israel, Colombia and Afghanistan, a powerful documentary that analyses how armed conflicts increasingly affect civilian communities and foster displacement; "The Mission to Educate" which examines the sustainability of the nomadic Nigerian tribes' lifestyle; and "The Nomad Spirit" looks at how market economy has transformed Mongolian society.
More recently, Delestrac contributed to the direction and writing of the award-winning large format blockbuster "Mystery of the Nile". His first feature documentary, "PAX AMERICANA and the Weaponization of Space", was selected in major international film festivals and acclaimed by the critics worldwide.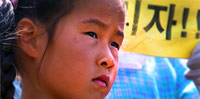 THE BASE, A Tale of War, Peace and Resistance
10/04/12
THE BASE is the inspiring tale of a humble fishing and farming community. Men, women and children determined to fight military and corporate giants with their bare hands, in pursuit of a vision of Peace shared for generations. A documentary directed by Denis Delestrac and produced by Bettina Walter, Head of Documentaries on Polar Star Films. You can check out the website of The Base where you will find all information about the film.
THEBASEFILM.COM
Follow us via TWITTER!
26/03/12
We have a new Twitter account so are able to share news and keep up to date with your projects. To follow us just search for @PolarStarFilms. Happy tweeting!
New FACEBOOK account!
26/03/12
Follow us on Facebook and keep up to date with all Polar Star Films productions and activities. Interact and comunicate with us: we'll be delighted to recieve your comments, proposals and feedback via this Web 2.0 Social Media platform. Here's the link: http://www.facebook.com/pages/Polar-Star-Films/359441790744938
BETTINA WALTER and DENIS DELESTRAC will present THE BASE at the Festival Visions du Réel of Nyon
08/03/12
THE BASE of Denis Delestrac's has been selected for the Pitching du Réel of Visions du Festival, wich will take place between April 20th to 27th 2012.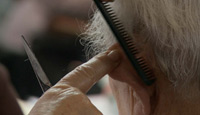 Documentary in post-production: HAIRDRESSERS OF THE RAVAL
07/03/12
Ines Thomsen's documentary "Hairdressers of the Raval" starts it's editing phase with the film editor Franziska Berlpesch.
PSF will apply for MEDIA 2nd STAGE
PSF gets ready to apply for the European support of MEDIA 2nd STAGE so we are open to new documentary proposals. You can send a synopsis to info@polarstarfilms.com.
BETTINA WALTER at Leipzig DOK, in Leipzig, Germany
15-18/10/11
BETTINA WALTER, head of documentaries at PSF, attends Pitching of the Documentary Campus Masterschool and DOK Leipzig Festival looking for new proposals.
FAIR TALES selected for MEDIMED2011 Documentary Market in Sitges, Spain
7-9/10/11
CARLES BRUGUERES, executive producer, attends 12th edition of MEDIMED Documentary Market in Sitges with FAIR TALES.
Shooting begins for THE LITHIUM REVOLUTION
23/09/11
On 23rd of September, 2011 began the shooting of the documentary THE LITHIUM REVOLUTION of Andreas Pichler.
PABLO Y ANNA directed by Melanie Horkan and Rose Kowalski is currently in post production
11/07/11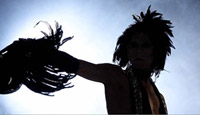 PABLO Y ANA (Working title)
24/01/11
Shooting begins for Rose Kowalski & Melanie Horkan's short fiction film. Starring Boris Ruiz, Iván Gongora and Helena Escuté, this short film fuses dance and fiction, telling the story of a father's lament for his estranged child.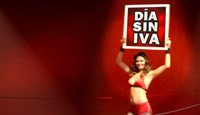 MEDIAMARKT shoots a "Tax Free Day" commercial.
17/01/11
[Tax Free Day]
LA ISLA PROMETIDA pitching in China
15/12/10
Abel Garcia's feature length documentary is being developed with MEDIA funding and also participated in the CROSSING BORDERS Documentary Campus.
FEDEFARMA corporate video completes production.
10/12/10
Fedefarma celebrated the opening of their state of the art warehouse with this sofisticated corporate video that fused cinematic photography and 3D graphics.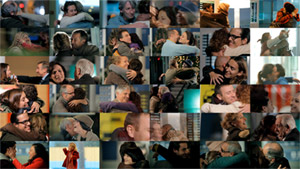 EL ALMENDRO tv campaign kicks off for the Christmas season.
01/12/10
Polar Star hired more than 80 extras to film this tv commercial, dressing Barcelona's Fira as a busy international airport.
MEDIA MARKT just keeps on going with new web and tv commercial campaigns, as well as post-production on new 3D ads.
15/11/10
FAIR TALES goes into distribution.
01/09/10
This 54" documentary directed by Nicola Moruzzi and Giovanni Pompili follows arab, soul-singing Khaoula around the shores of the Mediteranean.
FRAGILE GROUND at FIC-CAT, Internacional Festival of Catalan Short Films, Costa Daurada 2010
14-30/05/10
FRAGILE GROUND selected for the Manlleu Short Film Festival
26-30/05/10
FRAGILE GROUND selected for Mecal, the Barcelona International Short Film Festival
9-18/04/10
EL CLUB selected for the International Film Festival "Santiago Alvarez in Memoriam" in Cuba
8-13/03/10
Nominated to Best Short at the 2nd Gaudí Awards.
13/01/10 CHAT NOIR
The ceremony will be broadcasted Monday 1st of February on TV3. Read about it at www.cine365.com.
EL CLUB Selected for Documentary Edge 2010 New Zealand International Documentary Film Festival (category World Cinema), 27 Feb–28 Mar, Auckland & Wellington.
27-28/03/10
EL CLUB transmission on TVC Canal 33
09/01/10
TVC's Sports Department has programmed EL CLUB at 15:30h, Saturday 9th of January on Canal 33. Read about it at www.TV3.cat
EL CLUB selected for DOK Leipzig Market
26/10/09 - 02/12/09
CHAT NOIR wins Best Short Award at the Zoom Igualada Festival '09
07/11/09
During the Zoom Igualada Festival '09 Chat Noir received the Best Short Award in the Young Zoom Section.
LAZARUS TAXON wins Best Short at RHODE ISLAND INTERNATIONAL HORROR FILM FESTIVAL
28/10/09
During the RHODE ISLAND INTERNATIONAL HORROR FILM FESTIVAL Lazarus Taxon recieved the award for the Best Short.
LAZAUS TAXON/CHAT NOIR screening at 3pm in the EGYPTIAN THEATRE, LOS ANGELES
04/11/09
At 03:00pm the 2 short films Lazarus Taxon and Chat Noir will be screening at the EGYPTIAN THEATRE– AMERICAN CINEMATHEQUE, SALA SPIELBERG, LOS ANGELES (USA) during the American Film Market program, in the CATALAN MOVIES & AWARDS IN HOLLYWOOD section.
EL CLUB television transmission on TVC Canal 33
29/09/09
EL CLUB, a documentary co-produced with TVC opens the new season of "el documental" on Canal 33 at 00:05h on the night of Tuesday 29-30 September. Showing again at 3:00h the same night/early morning. read about it at www.TV3.cat
[Danny Fibla receives prize at Elche International Festival of Independent Cinema]
CHAT NOIR wins best music at Elche
07/09
Chat Noir wins the Dama trophy for best music at the 32nd Elche International Festival of Independent Cinema.
EL CLUB in competition at DOCSDF
10/09
EL CLUB showing in competition at DOCSDF International Documentary Film Festival of Mexico City. Programme:
CINEMEX INSURGENTES, SALA 6, SATURDAY OCTOBER 17, 22:30
CINEMEX INSURGENTES, SALA 5, SUNDAY OCTOBER 18, 14:30
FORO DE CASA DEL LAGO, TUESDAY OCTOBER 20, 20:00
www.dfgdocs.com
EL CLUB Selected for Medimed Documentary Market
09-11/10/09
Executive Producers Carles Brugueras and Bettina Walter will attend Medimed Documentary Market in Sitges with EL CLUB.
www.medimed.org
Chat Noir recieves prize for best short film in the 2nd "Festival of Short Films in The Catalan Costa Dorada 2009":
31/05/09
On May 31, Chat Noir recieved the prize for best short film in the 2nd "Festival of Short Films in The Catalan Costa Dorada 2009" in the presence of the Minister of Culture for the Catalonia Goverment, Mr. Joan Manuel Tresserras.
Lazarus Taxon wins second prize at the Scifiworld International Fantastic Short Film Festival
16/04/09
The jury, comprised of Ángel Sala (director of the Sitges Film Festival ), Nacho Cerdá (film director) and Antonio Reis (director of Fantasporto) awarded the second prize of the International Film Festival Scifiworld to Lazarus Taxon.
Gratis? One-on One-Meeting at Visions du Réel, Nyon 2009
16/04/09
Gratis?, a feature documentary in development, has been invited to pitch during the One-on-One meetings at Visions du Réel, Nyon 2009. The film is a co-production with MA.JA.DE. Producer Bettina Walter and directors Isaac Marcel Racines & Pedro Ballesteros will be in attendance at the international film market from 23-26 April 2009.
Dreams Of Sand production shoot during the 24th Marathon Des Sables
06/04/09
Dreams on Sand, a documentary in production, filmed several competitors during the Marathon Des Sables, 5 day marathon across the Sahara Desert, 27 March - 6 April 2009. Directed by Sarai García and produced by Madeleine Sheahan in collaboration with Beseriousproductions, the film is due to be finished in June 2009.
(·)Fragile Ground finalist at Hotdocs Toronto 2009
31/03/09
(·)Fragile Ground, a short documentary film, has been selected as one of 13 finalists to be judged at Hotdocs Toronto 2009 as part of the International Documentary Challenge 2009. Selected from 142 participating films it was conceived, written, shot and edited over 5 days (5-9th March 2009) for this timed international competition.
Screening & prize giving: 21:30h Saturday May 10, Hotdocs Toronto 2009.
Lazarus Taxon wins Best Spanish Short Film at FIC MÓSTOLES International Short Film Festival
29/03/09
"LAZARUS TAXON" (sci-fi/horror, 2008) wins Best Spanish Short Film at FIC MÓSTOLES International Short Film Festival. Since the film's premiere at Sitges Film Festival 2008 it has been well received by audiences at many international festivals. Also showing in competition in April 2009 at the prestigious Imagine Fantastic Film Festival of Amsterdam, the film is short listed for the Méliès d'Or Black Tulip Award. Some of the festivals it has screened at or will be screened during 2009 include: Sci-fi-london The London International Festival of Sci-Fi and Fantastic Film, Science + Fiction International Trieste Film Festival, Athens Sci-fi International Film Festival 2009, X_Science Génova, 2300plan9 "l´étranges nuits du cinéma" or Mauvais Genre, Tours.
28/02/09
Locura, Media Markt's latest advertising campaign empties stores
Locura, the latest of several ads produced by Polar Star Films for the electrical-goods giant Media Markt, went on air on the 25 of April. The cross-platform advertising campaign has been an undeniable success as stores have been emptied of stock.